Practice's pedestrianisation proposals unclog stretch of historic thoroughfare
LDA Design has drawn up proposals to pedestrianise a run of The Strand to reclaim part of the historic thoroughfare from buses and taxis.
The scheme, created for Westminster council, would remove traffic from a 200-metre stretch of the road, diverting westbound vehicles via Aldwych and creating a new public piazza stretching from Arundel Street to the Waterloo Bridge approach.
In the process the plans would change the setting of the grade I-listed Somerset House and St Mary-le-Strand church, as well as King's College London, the LSE and a range of other locally listed buildings.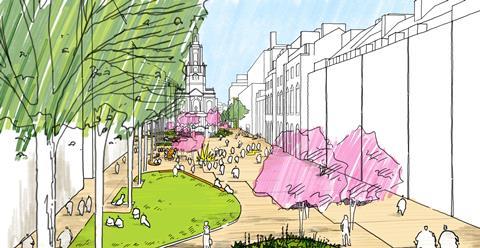 LDA said Westminster was looking to invest £28m in turning Strand Aldwych into a "world-class cultural and learning quarter" and that its plans could deliver a "new sanctuary" in the city.
Practice director and project lead Cannon Ivers said the proposals were a "once in a lifetime opportunity" to create new gardens, lawns and flexible public space at the heart of one of central London's most important thoroughfares.
"The plan reimagines Strand Aldwych as a place that is connected to the life taking place around it," he said.
"It seeks to encourage exchange between students, academics, creatives, visitors, those working in the area and nearby residential communities.
"Designed to be lively all-year-round, Strand Aldwych could be a space where art is made not displayed; where dance is rehearsed not performed. For the first time, people could be tempted to linger in this area."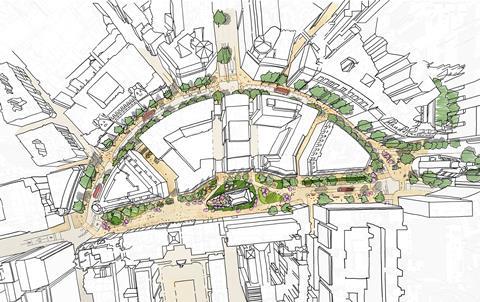 Campaign group Save Britain's Heritage welcomed the proposals. It had called for the pedestrianisation of the area in 2015 when it was campaigning to stop King's College from demolishing four houses near to Somerset House for a campus expansion.
Save director Henrietta Billings said the LDA scheme could result in new public space that was "as impressive as Trafalgar Square" and clean up the air in one of the capital's most congested streets.
"It will create new and wonderful views of the surrounding historic buildings – including the grade I-listed St Mary-le-Strand church – currently marooned on a traffic island," she said.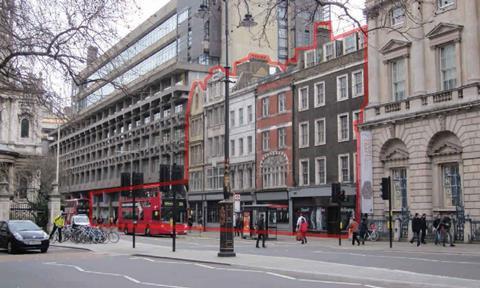 Although Save failed to convince Westminster council not to approve King's College's controversial demolition plans, the institution recognised the weight of opinion against the scheme and formally announced it would not progress with the project.
In November last year it won planning permission for proposals by Hall McKnight Architects that retain the buildings that had been earmarked for demolition.
Coffey Architects is also working on a neighbouring project on the Strand.
Westminster is consulting on LDA's Strand pedestrianisation plans until March 13.