Architect's new chief pledges to make zero-carbon a priority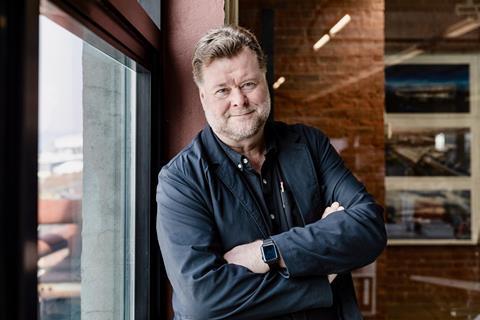 Grimshaw will become the first architect to stop designing buildings that are not net-zero-carbon, its new chief has predicted.
Andrew Whalley, who this week succeeded Nicholas Grimshaw as chairman of the 40-year-old firm, said he wanted the practice to become the first to design only net-zero-carbon buildings.
"With the urgency of the threat facing the environment we want to double-down on sustainability and in particular the need to get to net-zero, highly sustainable buildings," he said.
"The UN's latest report says almost all new buildings from 2030 need to be net-zero. It's quite a tall order, but we are aiming that all our buildings from 2030 will be net-zero. We want to be the first practice to achieve that, although I won't complain if someone gets there first. Everyone needs to have the same goal otherwise we're heading for real environmental problems."
Grimshaw has long had a focus on sustainability, with key schemes including the Eden Project and the British Pavilion at the 1992 Seville Expo which was considered ground-breaking for its sustainability credentials.
On the back of that, Grimshaw was invited to design a sustainability pavilion for next year's World Expo in Dubai, a project Whalley says is nearing completion. It will generate its own power, cooling and water and will harvest the breath of its predicted 5,000 visitors an hour to re-humidify the cooled air. It will be surrounded by "etrees" covered in solar panels that can twist to face the sun.
Whalley underscored the practice's continuing commitment to environmental work and said he wanted to extend that into a newer area of interest for the practice: urban design. "Grappling with sustainability at masterplan level is very important," he said.
He also confirmed his intention to retain the practice's focus on infrastructure – again bringing a sustainability edge to such projects.
He has no plans to expand the practice for growth's sake and wouldn't be drawn on new studio openings. Grimshaw has grown from 12 to more than 650 in three decades and now has offices on four continents.
"One of the great things about having a level of scale gives us an ability to invest in – among other things – disruptive technology," he said. In the UK Grimshaw's design innovation group is working with a partner on 3D printed panels that would allow a house to be built in a week. In Brooklyn it is involved in a project to create low-cost pre-fab housing.
Whalley said construction was "by far the most primitive" industry.
"The way we build hasn't changed very much for centuries, whereas look at the speed of change in aviation," he said.
Whalley, whose promotion followed a unanimous vote of the 20 partners two weeks ago, described stepping into Nicholas Grimshaw's shoes as "a great honour". The two have worked closely for 33 years, with Whalley serving as deputy chairman for the past eight years.