Inquiry hears firm sent in invoice for eight men pretending to work during one day
A partner in the firm responsible for fitting the new insulation and cladding to Grenfell Tower has told the inquiry into 2017's fire that "he can't see how" cavity barriers were installed the wrong way around and back to front as part of the flawed refurbishment.
Grahame Berry of subcontractor Osborne Berry denied the firm had struggled to get enough qualified workers for the refurbishment, which led to the loss of 72 lives, when he appeared before the Grenfell Tower Inquiry yesterday.
Like his business partner Mark 'Taff' Osborne had done on Monday, Berry – known as 'Bez' to the project team – agreed that photographs of the work taken during post-fire investigations had shown workmanship that was "shocking" and "unacceptable".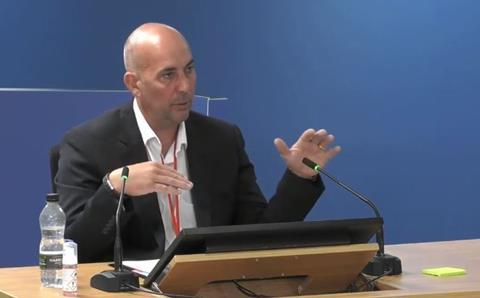 Particular issues included Siderise cavity barriers intended for horizontal use that were found installed both vertically and back to front on the tower and other barriers that fitted poorly. Both scenarios were not isolated incidents and meant the barriers were unfit to stop the spread of fire and smoke.
Inquiry barrister Kate Grange QC asked Berry how it was possible that nobody noticed such examples of poor workmanship on site.
"I can' t see how it's arisen because of the other checks that people have come 'round after we've installed the stuff," he said.
"There were checks after we've installed all our stuff on the building anyway, the insulation, the firebreaks as such. So I can' t see how that got missed."
Grange asked who else Berry expected to be checking the installation of the cavity barriers and insulation that Osborne Berry was tasked with fitting before the rainscreen cladding specified for Grenfell Tower was put in place. Berry named Harley Facades' project manager Ben Bailey.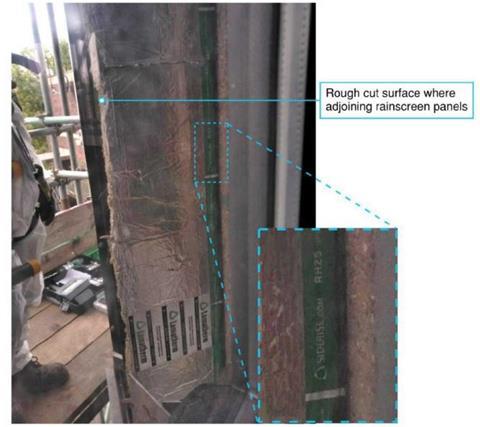 Grange asked whether it was possible that the casual fitters and fitter's mates who worked for Osborne Berry had been left to their own devices and that their work had gone unchecked.
"Most of the time we were always on site looking at what people are doing on various mast climbers around the building," Berry said.
"It's happened but I can' t see how it would have happened as such."
Grange asked whether any specific training had been given to Osborne Berry's team about how to install vertical cavity barriers properly.
Berry said team members had been told which type of barrier to use vertically and which to use horizontally and had seen mock-ups of correct installations. He said they had also been shown how to install the barriers correctly.
But he also told the inquiry that there had been a gap of "a good two months or more" between the installation of the horizontal cavity barriers on the tower and the installation of the vertical barriers.
Earlier in the session, Grange asked Berry whether he had read the marketing and installation guidance for the Siderise products. He said he had not.
Berry gave similar answers for installation instructions for the Reynobond aluminium composite material (ACM) cassettes used on the tower and the Celotex RS5000 and Kingspan K15 insulation installed on Grenfell tower.
He also said he was not sure whether he had ever installed Siderise cavity barriers before and that he could not recall fitting cavity barriers with an intumescent strip – like those on the horizontal Siderise barriers – previously.
No labour shortages
Berry was asked whether he and Osborne had ever struggled to find properly qualified fitters and fitter's mates to help them on the Grenfell Tower refurbishment.
Grange showed him an August 2015 email exchange with the Total Site staff agency in which he wrote that if he did not have four extra fitters on site the following Monday he would be in "real trouble" with the managing director of the company he was working for.
Berry was asked whether he had ever been forced to take on workers who didn't have the right skills to do the job. "Not that I'm aware of, no," he replied.
Berry was asked about another part of the Total Staff email trail in which the agency staff member said: "I have replaced all four guys."
Grange asked whether Berry had ever said he did not want particular fitters or fitter's mates to return to the site because of concerns about their work. "I can't recall anything like that, no," he replied.
Berry was also asked about September 2015 report from Jonathan White, one of project client Kensington and Chelsea Tenant Management Organisation's contracted-in clerks of works.
White wrote: "The external cladding is still very behind. Instead of an increase in labour, a decrease has happened with only two men on site. Further delays will occur."
Berry said he did not think there would ever have been only two men on site fitting the cladding.
Invoices
Tuesday's hearing heard Osborne Berry had originally priced its work on Grenfell Tower at £252,465 in September 2014 – a price that project external-envelope contractor Harley Facades had accepted. But the cost rose to £367,000.
Berry said the increase in cost related to "extras" that were not known about in 2014, such as the discovery that the windows Osborne Berry were installing at Grenfell did not come pre-glazed and the need for a layer of EPDM synthetic rubber to go around the frames.
He was also asked about an October 2015 invoice to Harley for around £27,000 that included itemised entries for one day when he and Osborne were on site but had nothing to do, which was priced at £360. Another entry was for £880 and was described as "8 men no work for 1 day machines up in air to look like working".
In explanation, Berry said: "I think that was a time where we had no materials on site for that particular day or so, and Rydons had a client meeting with a potential client for another building," he said.
"Harley asked us to be up in the air to look like we were working so it was like a normal building site as such, rather than people just sat downstairs doing nothing."
Berry said the team had gone up the mast climbers and pretended to work for the day. Asked whether the team had pretended to work for the whole day, Berry replied: "Bar lunch break, obviously."
Berry said he did not know who the client had been.
Complaints
Harley's Ben Bailey and Berry's business partner Mark Osborne were asked in their evidence about a complaint from Grenfell refurbishment main contractor Rydon containing allegations about Berry's on-site behaviour.
The April 2015 email from Rydon project manager Simon O'Connor said there had been a number of complaints about Berry knocking on residents' windows asking for tea, scaring animals inside flats, showing a "complete lack of respect for health and safety" and criticising the quality of Rydon's work. One of the health and safety concerns involved climbing between mast climbers on the site.
O'Connor's mail said he would have Berry removed from the site if there were any further incidents.
Grange asked Berry about the complaints. He said there was no truth to any of them.
Asked specifically about climbing between mast climbers, Berry replied: "I'm not stupid enough to climb across a climber when it's 10 or 12 or 15 floors up in the air. I wouldn't be that stupid or naive to do that."
Berry said the only time the fitting team ever got out of a mast climber when it was in the air was when they were working on the roof area and that they had been wearing clip-on harnesses in such circumstances.
The inquiry continues.