Architect admits firm's failure to update documents-issued register 'not good practice'
Studio E's register of drawings for the Grenfell recladding project failed to record for two years whether any documents were sent to building control or the fire safety consultant, the inquiry heard.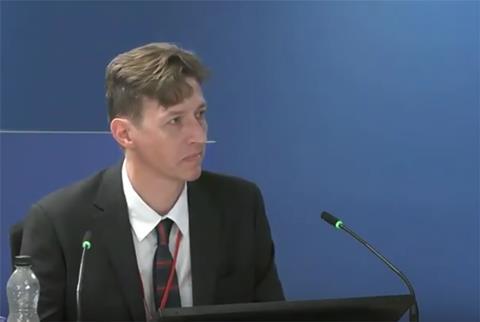 Architect Bruce Sounes admitted this was "not good practice" but denied it was a serious omission in his final day of testimony.
Studio E's document distribution list covering September 2013 to July 2015 – which inquiry barrister Kate Grange QC presented in evidence yesterday – was entirely blank next to the names of the fire safety consultant and local authority building control.
"It appears from the face of this document that there is no record of any information issued being made to either Exova or RBKC building control," said Grange. "It doesn't seem to record at any time in that period what information was issued to building control or Exova."

She asked: "Is it right that the document register and issue advice should have recorded key milestones in terms of the issue of documents?" to which Sounes replied: "Yes."
She then asked: "Do you agree it should have recorded those drawings issued to Exova and building control, for example the pack of drawings that was sent on September 24, 2014 following the full plans application?" to which Sounes again replied: "Yes."
Grange asked: "Would you agree that the failure to record what drawings were issued to building control and Exova is a serious omission on Studio E's part?"
Sounes replied: "It would be an omission if there was no record, but I believe there are records. It is not good practice to not maintain a drawing issue sheet but there is a record."
He agreed the record he was referring to was piecemeal and involved referring back to emails.
Grange asked: "Do you agree it's not possible to determine from this register whether Exova and building control might have been missing any particularly key documents?"
Sounes replied: "Yes."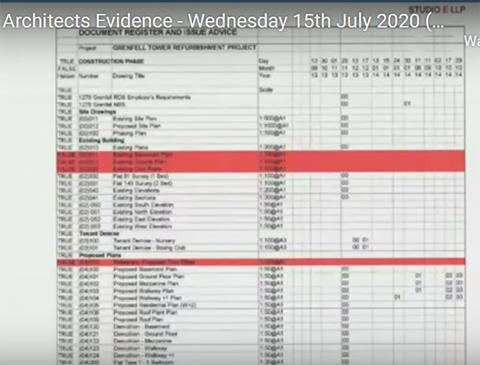 Grange quoted from the RIBA handbook of practice management and Sounes agreed with the importance given to keeping a clear record of exactly what documentation is issued on a project, to whom and when. He also agreed it was a long-standing convention for all documents issued to clients, consultants and statutory authorities to be recorded in a drawings issue register.
Elsewhere in his evidence Sounes admitted that he did not chase Exova for its final fire safety report and couldn't remember if he had told his colleague Neil Crawford that this was outstanding when he handed over the day-to-day running of the project.
He also said he could not recall telling building control that the cladding had changed from zinc to aluminium, but said he would expect such details to be dealt with further down the line.
Sounes has spent the last two days answering detailed questions about the events surrounding the recladding project whose failure led to the catastrophic spread of fire that claimed the lives of 72 people three years ago.
He began testifying in March but his evidence has been frequently interrupted: twice for brief periods when he was taken ill and then for several weeks when the inquiry was suspended because of coronavirus.
Studio E has since gone into liquidation.
In the final minutes of his evidence yesterday afternoon Grange asked Sounes if he would have done anything differently given the chance.
"Obviously I've had a long time to think about this," he said. "I think it's a very cruel question.
"I watched all the fire experts' evidence and then quite a bit later I studied the [housing ministry] DCLG tests and, um, in a sense that was more revealing. But I had no idea." In tears, he added: "I don't believe anyone involved in the project would have not acted had they known."
Phase two of the inquiry is expected to last 18 months.