Approval clears path for 17-storey office tower on MacCormac station
Southwark council has given the green light to Bell Phillips Architects' 15-storey residential tower in a move which paves the way for a major AHMM office scheme to be built above the adjacent Southwark tube station.
The council voted unanimously late last month to approve the Bell Phillips-designed tower, which is set to provide 25 one- and two-bed homes on the existing council-owned Styles House Estate at the corner of The Cut and Hatfields in the north of the borough.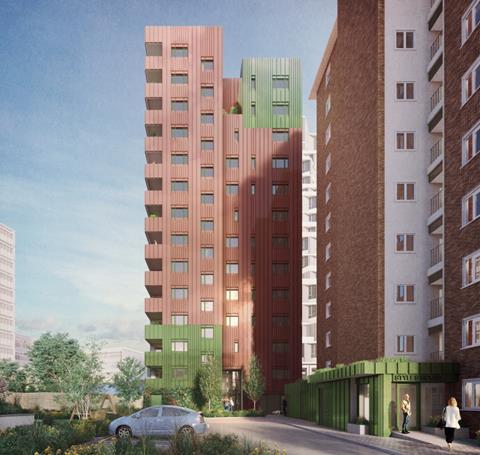 The scheme, which will include 16 affordable homes, requires the demolition of several existing buildings on the site including the Platform Southwark building, a three-storey arts hub housing studio space, an art gallery and a theatre.
A low-rise eight-home block, the estate's tenant management organisation (TMO) office, a community centre, nine garages and a storage building will also be flattened to make way for the new tower, although a new TMO hall and community facilities will be built on the site.
Both the Bell Phillips tower and proposals for a major Transport for London (TfL) scheme above the neighbouring Southwark tube station were dependent on a land-swap deal between the council and TfL, which was agreed in principle in April 2019.
After the deal was agreed, TfL lodged an application last year for the over-station development, with the AHMM-designed scheme consisting of a 17-storey office tower above Richard MacCormac's landmark Southwark tube station.
The council's approval of the Styles House Estate tower now clears the way for TfL to progress its plans for the over-station development, which would provide around 200,000sq ft of office space with retail space on the ground floor adjacent to the station entrance.
These have already been revised in response to conservationists' concerns about damage to the ticket hall at the station, one of the celebrated Jubilee Line Extension stations commissioned by TfL architect Roland Paoletti.