Leeds council votes in favour of 11-block riverside development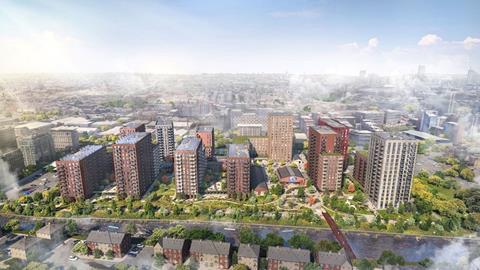 Broadway Malyan has been given the green light for a huge 1,400 home scheme on a riverside plot in Leeds.
Councillors at Leeds city council voted in favour of the planning officer's recommendation to approve the scheme late last week.
Designed for Latimer, the development arm of the UK's largest housing association, Clarion, it will see the construction of 11 blocks ranging in height from eight to 17 storeys.
The mostly vacant 5ha site, located just to the west of the city centre on the banks of the RIver Aire, was previously occupied by the former Yorkshire Chemical Works and a bus depot.
A handful of heritage buildings on the site, including the former Imperial Picture House dating to 1913 (pictured, below), will be demolished to make way for the new development.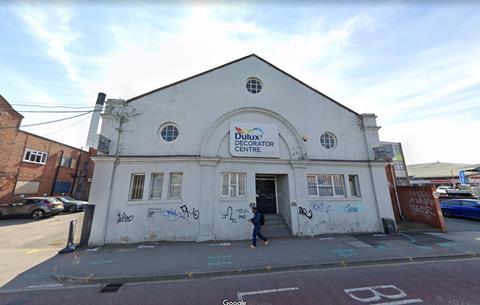 The planning application had initially committed just 7% of the homes to be affordable, but Clarion has expanded this to 503 homes in total following a successful funding bid from Homes England.
Also included as part of the scheme is 355-room student accommodation block, a riverside park, a new river crossing, 1,100 cycle parking spaces and commercial and retail spaces.
Councillor Caroline Gruen, chair of the North and East Plans Panel, said the development was a "good scheme and an excellent use of brownfield [land]", adding that it was "the direction [the council] should be going in".
Broadway Malyan director of architecture Luke Walter said: "We were keen to maximise the assets the site offers in our masterplan – the River Aire, proximity to the city centre, great transport links – and to capture the site's history as an important aspect of the design process to maintain its authenticity and make real change to the area."
Last week, the practice resubmitted its plans for a huge, and highly controversial, housing project in the medieval centre of Norwich for developer Weston Homes.
The original 1,250-home plans were rejected by former housing secretary Robert Jenrick in 2020 because of the "excessive size".
The new, downsized proposals have removed a 20-storey tower, cut 150 homes and reduced the total floor space by a third.
But Save Britain's Heritage has voiced "major concerns" about the scheme, which it said was still too large for the historic conservation area site.
Clarion said in January it had completed 1,586 homes in the first nine months of the 2021/22 financial year and increased its turnover and profit following a slowdown in the wake of the pandemic.
The 125,000-home housing association reported revenue of £783m for the first nine months of the financial year, up from £677m.