Jenrick said it had been a 'huge privilege' to serve in the role
Michael Gove has replaced Robert Jenrick as housing secretary in Boris Johnson's latest cabinet reshuffle.
Jenrick confirmed his sacking on Twitter, saying it had been a "huge privilege" to have served as secretary of state.
No 10 said that Gove will also take on responsibility for the union and the levelling up agenda.
The move came after Johnson sacked education secretary Gavin Williamson and justice secretary Robert Buckland earlier this afternoon.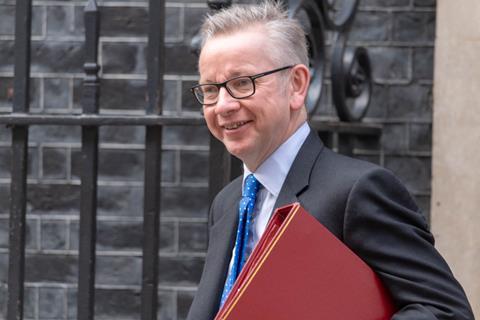 It is not yet clear if another role will be offered to Jenrick, who had been housing secretary since July 2019 when Boris Johnson won the Conservative Party leadership contest.
During his two-year tenure Jenrick was criticised as housing secretary over his unlawful decision to approve the Westferry Printworks scheme, trips to second homes during lockdown and the failure to resolve the ongoing cladding scandal.
His proposed reforms to the planning system, which included plans for mandatory local housing targets and a zonal system to classify land for development, also ran into criticism. The controversy over the proposals was also seen by many as a key factor in the Conservatives' defeat in the Chesham and Amersham by-election in June,
Earlier today Number 10 reportedly confirmed that Johnson intended to carry out a reshuffle of cabinet posts today, with junior ministerial jobs – which would including the housing minister role currently occupied by Christopher Pincher – decided tomorrow.
It's been a huge privilege to serve as Secretary of State @mhclg. Thank you to everyone at the department for their hard work, dedication and friendship. I'm deeply proud of all we achieved.

I will continue to support the Prime Minister and the Government in every way I can.

— Robert Jenrick (@RobertJenrick) September 15, 2021
Jenrick used his tweet to thanks departmental staff for their hard work, and said he was "deeply proud of all we have achieved".
"I will continue to support the Prime Minister and the Government in every way I can," he added.
Green Party MP Caroline Lucas said departure of Jenrick as "must lead to a major rethink of the deeply damaging planning bill which, in its current form, would concrete over huge areas of countryside and deny local communities any meaningful voice in local house building".
Assael Architecture director Félicie Krikler said that the "revolving door of housing secretaries continues" with the appointment of Gove, who is the third to hold the role in the past three years.
She added: "The government needs stability and leadership if it is to bring forward policies that clarify questions over design, quality and delivery methods concerning the homes we build."
Crispin Truman, chief executive of CPRE, said the countryside charity welcomed Gove's appointment "at this watershed moment for planning".
He said: "With his past experience as environment secretary, we hope and expect him to champion local communities, nature and climate as his department drafts the new Planning Bill.
"That means securing the voice of local people in planning decisions, holding developers to affordable housing targets, ending land banking, and protecting our local green spaces and countryside by reusing previously developed land first."
Royal Town Planning Institute chief executive Victoria Hills welcomed Gove in the role and said the planning profession "eagerly awaits details of reforms that will be introduced".
And Chartered Institute of Building (CIOB) director of policy, external affairs and research Eddie Tuttle said the organisation looked forward to working with Gove to make progress on big issues facing the industry.
He said the CIOB wanted to see "quality as a priority" in the development of new and retrofitted homes.
He added that it is vital that the industry receives clarity on the Planning Bill and its relationship with the Fire Safety Act and the Building Safety Bill, particularly in relation to the government's position on permitted development rights and ensuring there are "strict quality controls".