New parks and gardens planned at east London business district
Canary Wharf's public spaces are to receive an eco-makeover by Eden Project.
The Cornwall-based social enterprise has partnered with Canary Wharf Group to develop a blueprint for increasing biodiversity through enhancements to waterways and the public realm on the Isle of Dogs.
The partnership's first project will be the creation of a green spine through the estate and will see the creation of new parks and gardens, waterside access, performance spaces, bridges, boardwalks and floating pontoons.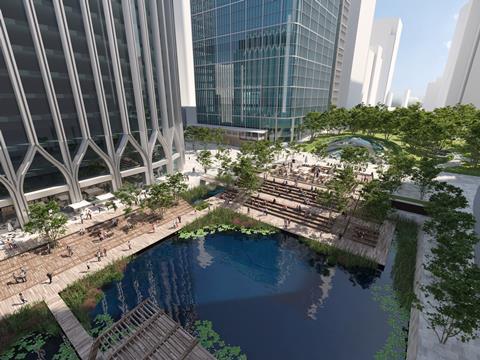 It will provide new spaces for arts and culture, as well as opportunities for water sports such as paddle-boarding, open water swimming and kayaking.
The first phase – running from the Newfoundland skyscraper to Wood Wharf – is expected to be complete by Christmas, after which the partnership will turn its attention to the South Dock and Montgomery Square.
Glenn Howells Architects will assist the partnership in creating a masterplan for the existing public realm and waterways.
Shobi Khan, chief executive at CWG – which has committed to achieving net zero by 2030 – said cities had to be part of the solution to biodiversity loss.
Wildlife populations fell by 68% in the half-century up to 2020, while the world's urban footprint exploded. By 2050, two-thirds of the world's population are expected to live in cities.
Eden Project is developing plans for an Eden Project North in the Lancashire seaside town of Morecambe, which would focus on the marine environment.