Allies & Morrison and Stiff & Trevillion join designers working on central London development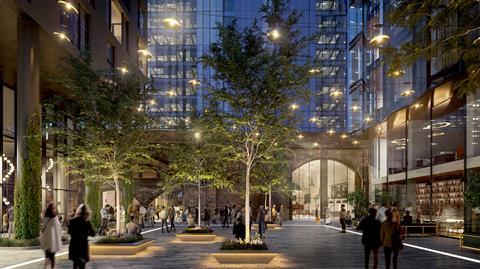 Native Land has appointed four architectural practices to develop designs for four buildings within Eastern Yards, part of its £1bn Bankside Yards project on the south bank of the Thames in central London.
They are PLP, Allies & Morrison, Stiff & Trevillion and Ken Shuttleworth's Make Architects.
Eastern Yards, on the former Sampson House site at the southern end of Blackfriars Bridge, makes up 550,000sq ft of the 1.4m sq ft Bankside Yards development, and comprises five buildings in total.
The site, which was granted a new planning consent earlier this year, will include 341 homes, 70,000 sq ft of workspace, around 1.5 acres of public open space and 8,000sq ft of cultural space.
PLP Architecture, which is also the scheme's masterplanner, will work on designs for building five, the tallest at Eastern Yards.
This will include a 126-bed hotel, 58 flats and two high-level restaurants with views of the River Thames. A large cultural public square and retail space will be developed at the base.
Make has been instructed to develop designs for building four, containing flats. It will rise to 20 floors and include 74 private apartments and a residents' roof garden.
Allies & Morrison has been appointed for building seven, which will contain 184 flats, a mixture of private and affordable homes, with retail at the base.
Stiff & Trevillion will develop designs for building nine, the eight-storey commercial building to the south of the site.
The Bankside Yards project will open up a previously inaccessible area, connecting routes between Bankside and the South Bank for the first time in more than 100 years. The wider site, divided by an elevated railway line, was previously occupied by two long mid-rise office buildings, brutalist Sampson House and its twin Ludgate House, once home to Building Design.
McGee started demolition of the first phase at Bankside Yards, known as Western Yards, in late 2019.
Building Design understands Multiplex has been lined up to build this first stage.
This includes Arbor, a 230,000sq ft office building due to complete in 2022, a 240-home block of flats plus retail, restaurant and cultural space in the restored railway arches.
Bankside Yards is being developed by a consortium comprising Native Land, Temasek, HPL and Amcorp.