Jibe surfaces on third day of appeal against London mayor's decision to turn down viewing tower
The project lead at Foster & Partners has rejected suggestions the firm's design for the Tulip tower in the Square Mile make it look like a "watchtower in a prison camp".
Robert Harrison was giving evidence on the third day of an inquiry into the 305m tall landmark proposed for a site next to Fosters' Gherkin which was refused planning by London mayor Sadiq Khan last year.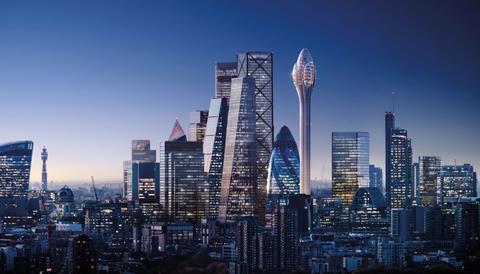 The visitor attraction will include multiple observation levels – including external gondolas, a restaurant and "sky bar", and education space – in a 12-storey structure at the top of a slender concrete shaft or 'stem' in the heart of the Square Mile's 'eastern cluster' of skyscrapers.
It was approved by City of London planners in the spring but Khan sided with government heritage advisor Historic England and rejected the proposal last summer.
He said it "would not constitute the high standard of design required for a tall building in this location" and would cause harm to the "outstanding universal value" of the Tower of London World Heritage Site.
Russell Harris QC, representing the scheme's developer Bury Street Properties, which has launched an appeal into the mayor's decision, asked Fosters' partner Robert Harrison: "One of the criticisms made about [the Tulip] is that it somehow looks like a watchtower in a prison camp or something of that nature."
But Harrison replied: "I don't recognise or accept the similarity. I am not familiar with watchtowers, but I don't believe there are any which have bars in them, I don't believe there are any which have restaurants in them, I don't believe there are any which have classrooms within them, or community spaces or retail spaces or amazing viewing galleries."
He was then asked if he agreed with criticisms made by Historic England that the tower's use of concrete in its "stem" was "incongruous" in a part of the City characterised by glazed office blocks.
He said the Tulip, being a mixed-use building, had "an entirely different use" and added: "I should see no reason why there should be an association either in terms of its form or in terms of its material with neighbours that are providing a financial services headquarters or another office use."
On Wednesday, the developer's legal team denied the scheme would "harm the ability to appreciate" the Gherkin, which would be just five metres away from the Tulip, and said approval for the scheme would give the capital a much-needed confidence boost in the wake of the covid-19 pandemic.
The Tulip's developer, billionaire financier and Gherkin owner Jacob J Safra, formally launched an appeal over its rejected plans in January.
Closing submissions will be heard on 11 December with the final decision set to be made by secretary of state Robert Jenrick – although no timeframe has been given for when this will be announced.