Scheme will feature fleets of autonomous vehicles on 'skybridges'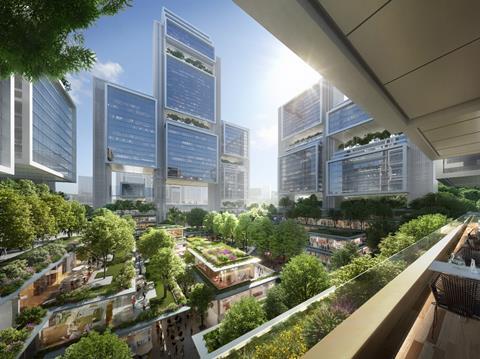 Foster & Partners has won the competition to design a major new transport hub in southern China featuring a cluster of towers spaced around an existing high-speed railway station.
The Guangming Hub, which will include autonomous vehicles moving around a network of skybridges, will be the centrepiece of a masterplan aiming to create a new urban destination in the region.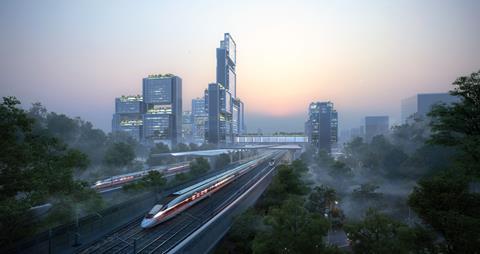 The scheme, which will be built above two new stations integrating three new metro lines, will be linked to the surrounding cities of Hong Kong, Shenzhen and Guangzhou via the existing high speed railway station.
The fleet of autonomous vehicles are set to glide over the area's rugged topography using a system of subways and sky bridges connecting a patchwork of landscaped retail areas and linking the site to the wider masterplan.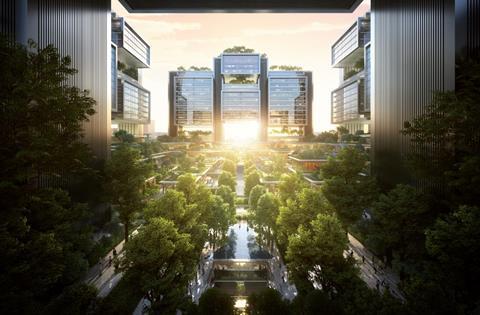 Foster & Partners partner Young Wei-Yang Chiu described the greenery-filled hub as a "forest gateway" into nearby Shenzhen, adding: "The central idea is to capitalise on the natural beauty of the site, using the lush landscape to create a lively experience for visitors and locals."
The towers have been inspired by traditional Chinese gateways, with openings at ground level marking the main access routes into the centre of the site and the high-speed railway station.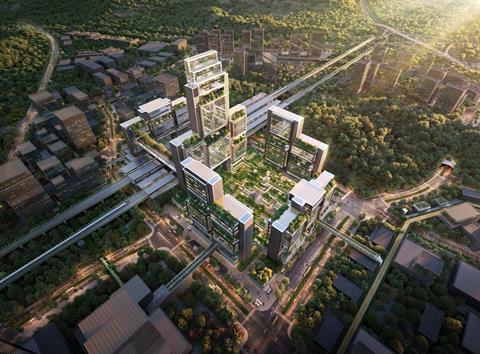 To design the massing, the design team fed a set of constraints influencing urban growth in the region into a specially created software programme which output an ideal masterplan and this was then further refined.
Permeable pavement to reduce flooding will also be included, along with a new transport museum located on a bridge above the high-speed station.
The hub will be located in the east-central part of the Pearl River Delta, one of the largest urban agglomerations in the world with a population of close to 60 million people.