Historic district expected to be city's first zero-carbon area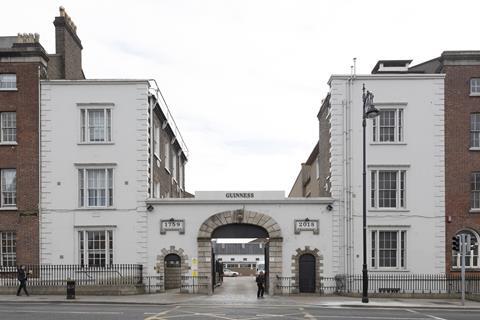 Faulkner Browns has been chosen to design a 500-home sustainable urban quarter on the site of the iconic Guinness Brewery.
Developer Ballymore appointed Faulkner Browns to redevelop the 12-acre site at St James' Gate in Dublin, which is intended to be the city's first zero-carbon district.
The site has been the home of the Guinness Brewery for more than 261 years and its modernisation by Guinness' parent company Diageo has led to the freeing up of the 12 acres.
Niall Durney, associate partner at Faulkner Browns, said: "As masterplanner and lead architects, this is a once in a lifetime opportunity to work with Ballymore and our collaborators to craft a major new piece of Dublin city centre.
"The 261 years of existing fabric on this iconic site is the best possible starting point in creating a major visitor destination and sustainable urban quarter."
Ballymore also plans offices, commercial space, community facilities and a public realm for the development, as well as the homes. It aims to retrofit and re-use existing buildings where it can, and to retain the current character of the site as much as possible.
A consultation on the emerging masterplan is currently being carried out and a planning application is expected to be submitted to Dublin City Council in 2022.