Five-storey subterranean extension to include a spa, swimming pool and 53 new rooms
EPR has been given the green light for a massive five-storey basement extension at the Ritz, featuring a two-level spa, 20m swimming pool and a gym.
The £300m scheme, the biggest refurbishment in the world-famous Mayfair hotel's 115-year history, will also the addition of 53 new rooms.
It will see a neighbouring building demolished and replaced with a new structure, while a roof extension is also set to be added to the grade II*-listed main building, bringing the total number of rooms to 191.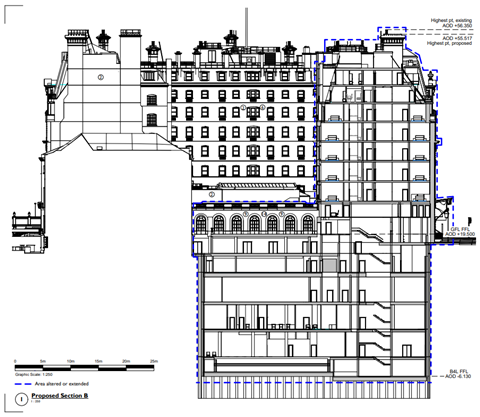 The five-star hotel on Piccadilly, which serves up £53 afternoon teas five times a day, is carrying out the overhaul to counter increasing competition from other upmarket rivals in the capital.
The aim is to modernise the luxury destination, with its senior advisor Andrew Love being quoted as saying that there is an "acute need to enhance the operation of the Ritz".
It comes after Qatari investor Abdulhadi Mana Al-Hajri purchased the hotel, which overlooks Green Park, from the Barclay family in March last year for an estimated £700m.
Steam and sauna facilities will also be housed within the new mega-basement along with treatment rooms, a juice bar and a beauty salon, while another level will contain a secure parking lot for high-profile guests such as royalty or heads of state.
The subterranean expansion follows in the footsteps of other luxury London hotels, with McGee, Arup and WSP completing a huge 33m-deep basement beneath Claridge's, half a mile to the north, last year.
The Londoner, a newly opened hotel in Leicester Square designed by Woods Bagot, has also invested in a six-storey mega-basement, while Covent Garden's The Savoy was given a £200m makeover by Chorus a decade ago.