Expanded plan cleared despite objections from local campaign group
Wandsworth council has given the green light to EPR Architects' 11-storey office building in Nine Elms on the former site of Royal Mail's south London mail centre, despite protests from a local campaign group.
Work on developer Quadrant Estates' 21,500sq m block is expected to start on site this summer after the finalisation of its section 106 agreement.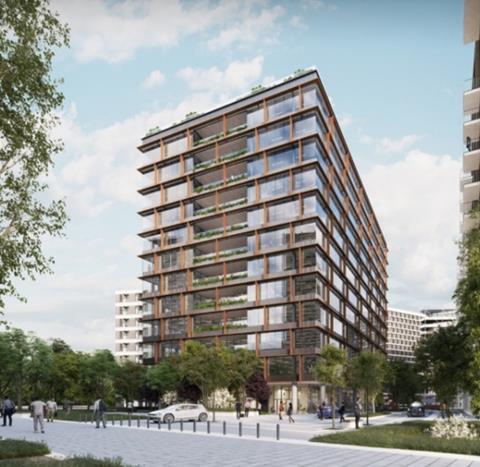 The scheme is set to include a roof terrace and community space at ground level, with office space across the upper storeys.
It is located in the north west corner of the 6ha site in the centre of Nine Elms.
The wider site, which sits between New Covent Garden Market and the US embassy, has been undergoing remediation works since the demolition of the majority of its Royal Mail buildings following its closure in 2012.
Despite objections from local campaign group The Battersea Society, the council voted unanimously last week to approve an updated application lodged by Quadrant which increased the floorspace by over 14%.
The council had voted last month to approve a smaller application on the site consisting of around 19,000sq m of floor space.
The campaign group said the revised plans was too big for the plot and did not contain enough affordable workspace or disabled parking space.
The planning officer's report said the changes had been made to "improve building efficiencies and operation".
The scheme will also see the reinstatement of the historic Haines Street to the west of the site as a pedestrian path. It disappeared from maps after the nearby New Covent Garden Market was built over it in 1971.