Chancellor also offered some cheer to self-employed
The government has confirmed details of its extended furlough programme – with the state continuing to pay the full 80% of employees' wages until the end of August.
The plans were confirmed by chancellor Rishi Sunak at Downing Street's 5pm daily briefing this afternoon.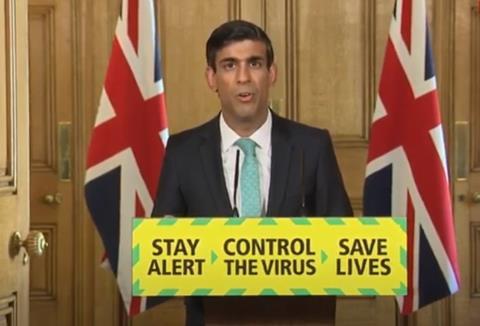 Sunak (pictured) said employers will be responsible for paying staff's National Insurance employer contributions and pension contributions from August.
But the government will continue to pay up to 80% of furloughed staff's wages that month.
In September, employers will have to start paying 10% of the 80% figure which will rise to 20% the following month, with the government paying the remainder.
Sunak said: "I believe that it is right in the final phase of this eight-month scheme to ask businesses to contribute alongside the taxpayer towards the wages of their staff."
The government also announced that employers will be able to bring back furloughed employees on a part-time basis from July 1 with the government making up staff's wages to the 80% figure.
Sunak also put a deadline on when companies will still be allowed to put staff on furlough – saying all employees must be registered with the scheme by June 10.
Sunak also confirmed that the self-employment income scheme will be extended with applications opening in August for a second, and final, pay-out.
However a campaignr group called New Starter Justice said the news of the June 10 cut-off was catastrophic for the more than a million people it represents who fell through the gaps.
Spokesperson Natalie Greenway said: "The financial and mental implications of this exclusion are becoming more and more devastating. Our data reveals the true extent to gaps in the scheme. From the number of people who can't be furloughed by a previous employer because they were unemployed before securing their new job, to the vast percentage of new starters reporting mental-health difficulties, it's evident that as much as the scheme has been a lifeline for many, in its current form it has been catastrophic for those left behind.
"We welcome the chancellor's focus on the future, but we invite him to consider how bleak it looks for a lot of new starters right now."
This week, HMRC said one million employers had claimed £15bn for 8.4 million furloughed employees between April 20 and May 24.
Earlier this month, the government confirmed it was extending its furlough scheme, which had been originally due to come to a close this month before being extended until June 30, to the end of October.
The initiative, which sees the government pay 80% of people's wages up to £2,500 a month, will have been up and running for eight months by that point.