Separate bids named joint winners to rethink future of grade II* gothic revival building
Emil Eve Architects and Arup have been named joint winners of an ideas competition to find new uses for the grade II*-listed St Martin's Church in Brighton.
The practices were picked from 28 "extraordinary and diverse" responses to the call for creative solutions that would "respect the integrity" of the under-used gothic revival structure, at the same time as "adding new life and economic sustainability".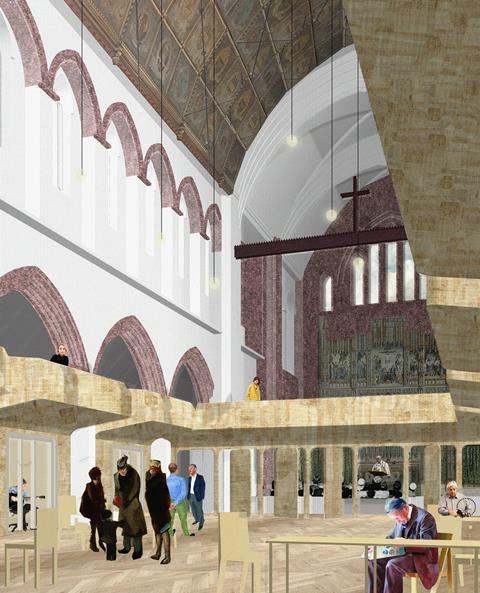 According to the competition brief, while the cathedral-like church is capable of hosting 1,500 worshippers its current congregation is around 60.
Emil Eve proposed an "electric" transformation for the venue into a performance and rehearsal space with additional music-production facilities, bar and café uses, and new homes; while Arup's data-centre-led scheme was dubbed "digital fusion".
A third shortlisted scheme, by Trewin Design Architects, suggested a scheme that would turn a large part of the church's nave into a climbing centre, with the introduction of a nursery, café and residential element.
Competition organiser Colander said the jury panel – which included Julia Barfield, of Marks Barfield Architects, felt it was impossible to select a single winner and opted instead to celebrate two "different yet complementary schemes". The competition was run on behalf of the Diocise of Chichester.
Jury panel chair Peter Field, who is Lord Lieutenant of East Sussex, said the competition had thrown up a "stunning" range of ideas and possible uses.
"They ranged from leisure and the arts to business and community uses – the latter including vertical farming and sophisticated climbing walls," he said.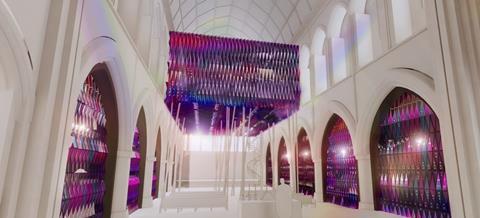 "In the end we felt the practical solutions submitted by Arup, if combined with the uplifting arts suggestions put forward by Emil Eve would ensure the life of a beautiful heritage building such as St Martin's church for generations to come."
Emil Eve and Arup each win £8,000 as their share of the £22,000 prize fund. Runner up Trewin Design collects £6,000. The original competition proposed a single winner's prize of £10,000 and two runners-up prizes of £6,000.
The winning designs and Trewin Design's second-placed entry, along with highly commended designs by ArtArchitects and Tom Turner Architects, will be on display at a public exhibition inside St Martin's on February 2 and 3.