Diller Scofidio & Renfro's proposals replace plans for Centre of Music concert hall which was scrapped after its conductor moved to Germany
Diller Scofidio & Renfro has unveiled new proposals for the Museum of London site in the Square Mile after its previous plans for a concert hall were scrapped.
The architect is sticking to its plan to demolish the site's existing 1970s buildings, but now wants to build a pair of office towers.
The City of London had appointed the practice to design a £288m venue known as the Centre for Music on the site, which is currently occupied by the Museum of London.
But this scheme was cancelled after Simon Rattle, the conductor for whom it was being built, announced that he was leaving the London Symphony Orchestra to return to Germany.
Now DS&R has announced plans for a commercial scheme arranged around a central 'bowl' shaped public garden.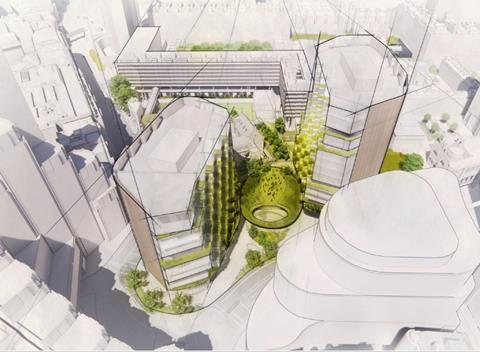 It will consist of three main buildings, including two towers, which it said would provide "flexible, high quality" office space at a key road interchange on the edge of the City.
The two main buildings will feature green walls on their inward sides facing the central park area, with a "quieter, calmer and more formal" appearance on their outside walls.
The area around the Roman Wall gate, which currently sits in a room beneath the adjacent London Wall road, will also be redesigned to make it more visible to the public.
But Philip Powell and Hidalgo Moya's 1970s Bastion House and Museum of London building, which was granted immunity from listing in 2019, would still face the wrecking ball.
DS&R said the brutalist structures are "very much at the end of their design lives" and are no longer capable of providing modern office space.
It has carried out studies over the past six months and concluded that a full redevelopment would be a more sustainable approach than refurbishing the existing buildings, which it said would be "carbon intensive and still not deliver efficient buildings by modern standards."
Buro Happold has also carried out a detailed structural analysis of the site and found that 90% of its materials could be recycled.
The change of plan follows an uptick in the amount of new office developments planned for the capital as developers set their sights on a decline of working from home.
Property services firm JLL said that office take-up in August was the highest since the start of the pandemic, while information provider Glenigan found that office starts had jumped by 8% since the summer.
Deloitte's latest crane survey found that office starts rose by 10% between April and September, the third consecutive rise recorded by the six-monthly survey.
It found more than a third of developers now expect working from home to have no impact on leasing demand, three times more than the 12% reported 12 months ago.