£1bn Southwark scheme set to 'reconnect' South Bank and Bankside

New images of how the south bank of the Thames will look following the completion of PLP's huge Bankside Yards mixed-use scheme have been released.
The development will deliver new office and retail space – along with 600 new homes – in blocks up to 49 storeys high on a 2.2ha site that straddles the Thameslink line connecting Bedford with Brighton.
BD's former Ludgate House base occupied part of the site, while brutalist Sampson House – a former Lloyds Bank cheque-clearing centre designed by Fitzroy Robinson & Partners – is being demolished to clear the eastern part of the plot.
Developer Native Land and consortium partners Temasek, HPL and Amcorp Properties said work was now under way on the project's first phase – known as Western Yards, which will deliver a 21,360sq m "headquarters-style" office building.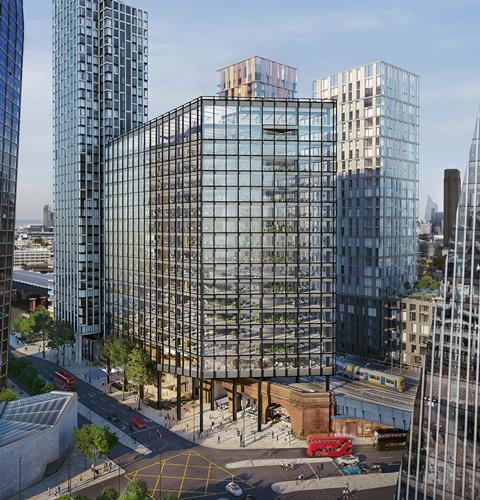 Western Yards will also include a 230-home apartment building and the creation of 4,600sq m of independent retail, restaurant and cultural space through the refurbishment of 14 historic railway arches.
Native Land recently made a planning application to amend proposals for the second phase of the development, known as Eastern Yards, to include a hotel and on-site affordable and private homes.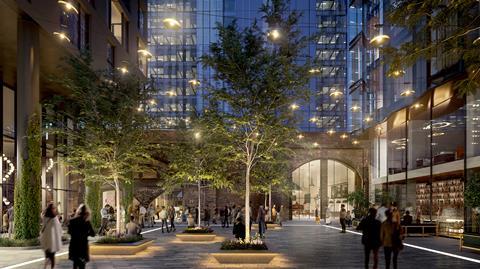 Native Land chief executive Alasdair Nicholls said the whole scheme would provide more than 1ha of new open space that would be walkable and fully accessible to the public, and which would reconnect the South Bank and Bankside for the first time in more than 100 years.
"Bankside Yards will draw together Bankside's established cultural, commercial, retail and residential worlds around a new neighbourhood where people will work and live, visit or just spend time by the riverside," he said.
"We are opening up an important piece of London with amazing transport connections and, as locally based developers, we are keen to contribute to the rich mix of the area by creating a place that's accessible, enjoyable and productive."
PLP's proposals for the site first won planning permission in 2014, and were updated in 2018 with approval granted for three additional storeys to the Arbor office building.