HS2 contractors poised to take down late-1970s office blocks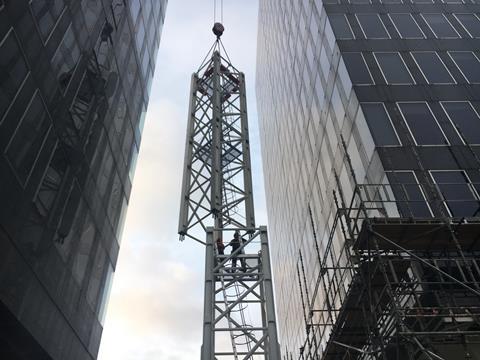 Two 1970s office blocks designed by Richard Seifert will be gone from the London skyline by the end of the year acording to bosses at the the High Speed Two rail project.
Last week the first of three tower cranes set to dismantle One Euston Square and Grant Thornton House was moved into place outside Euston Station ahead of a 10-month demolition programme for the structures.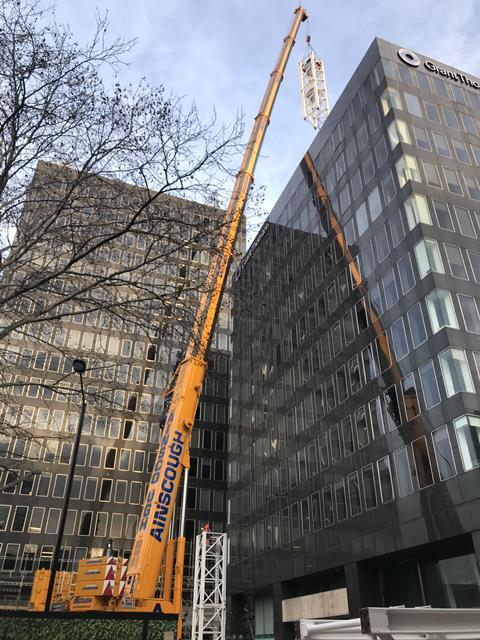 The Department for Transport-owned company HS2 Ltd said work was already under way to strip out the buildings, built between 1974 and 1978, ahead of the £4bn transformation of the station and its surroundings to designs by BIG, AHMM and Grimshaw, Asif Khan and Haworth Tompkins.
Over the years, the polished stone clad towers have divided opinion – not least because the 1960s redevelopment of Euston involved the loss of Philip Hardwick's Victorian station and its Euston Arch.
However, when Euston was made the Twentieth Century Society's building of the month in 2011, art history professor Mark Crinson praised the towers for their "solemn yet classy skin".
Crinson – then an academic at the University of Manchester, now at the University of London's Birkbeck College – paid particular compliments to the structures' "wonderful corner windows", which he described as one of his favourite details in late British modernism.
He said the buildings' styling was "reminiscent of the glamorous discretion of a 1920s Viennese shop front", adding: "Seifert's designers had a way with a sleek, rather continental glamour – Mies meets retro-moderne."
In a nod to campaigning architectural historian Dan Cruickshank's hunt for the remains of the Euston Arch, Crinson concluded: "Nothing seems imminent, but perhaps in 100 years' time we might be campaigning to salvage Seifert's stone from the River Lea."
BD's architecture critic Ike Ijeh was less dewy-eyed about the towers and their creator in a feature that ran in sister-title Building the same month.
He said Seifert had created a "miserable range" of offices to greet passengers emerging from the "concrete coffin" of Euston Station, adding that the architect's involvement in the project had "only cemented his folkloric status as pre-eminent heritage assassin".
The Seifert towers were built above the entrance and exit to the "new" Euston Station's underground taxi rank. Earlier this month a new temporary taxi rank was opened to relocate services away from the demolition work.