Practice's 14-home corner development will replace car wash
De Metz Forbes Knight Architects has won planning permission for a residential scheme on a prominent corner site in north-west London.
Its 14-home scheme will replace a car wash on a triangular 0.34ha site in Kentish Town Road, opposite the grade II-listed Bull & Gate pub.
DMFK's seven-storey proposals, drawn up for applicant KTR Carwash Project Ltd, will also deliver 255sq m of café and retail space at ground-floor level.
Recommending the scheme for approval, Camden council planning officers noted that its design review panel had reviewed the scheme at pre-submission stage and considered the designs to be "of a very high quality" and capable of delivering an "exceptional building" with minor adjustments.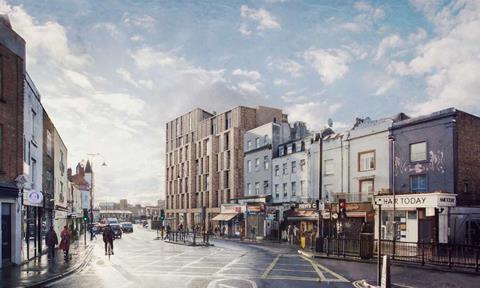 "In response to [the panel's] comments, the scheme has been revised to provide a smoother transition in height to the neighbouring building to the north," they said.
"The development shows generosity to the public realm, and would help to activate and enhance this part of the town centre.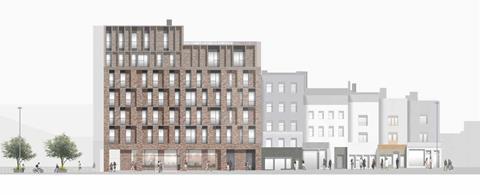 "Overall, it is considered that the development is of high architectural quality, which would provide a significant improvement to the townscape over the existing car wash."
Officers said they were prepared to accept a £276,000 contribution towards offsite affordable housing based on a viability assessment for the scheme.
After Camden council's planning committee approved the proposals, DMFK said it believed input from the design review panel and development forum had been "key to creating confidence" in the scheme among committee members.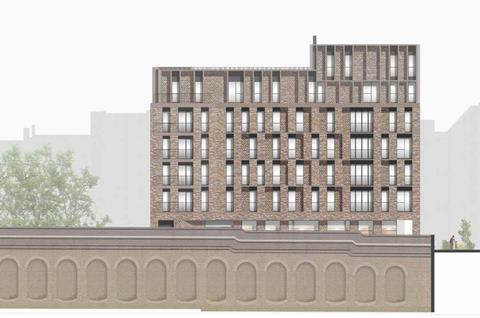 Douglas Godfrey Paskin, of PKS Architects, is listed as the sole director of KTR Carwash Project Limited on the Companies House website.
Last year DMFK picked up one of RIBA's London Regional Awards for its £12m refurbishement of Sir Basil Spence's grade II-listed Salters' Hall in the City of London.