V&A extension and Royal Academy of Music projects top RIBA's 61-strong London Regional Awards
RIBA has named the 61 projects that have won 2018 London Regional Awards and conferred this year's "Best London Building" title jointly on Amanda Levete's AL_A practice and Ian Ritchie Architects.
Levete's best-building title was in recognition of AL_A's Victoria & Albert Museum Exhibition Road Quarter. Ritchie was honoured for the practice's Susie Sainsbury Theatre and Angela Burgess Recital Hall at the Royal Academy of Music.
Elsewhere, Foster & Partners' Bloomberg building; Amin Taha and Groupwork's 15 Clerkenwell Close; Wilkinson Eyre's King's Cross Gasholders; Squire & Partners' Department Store; and Orms' No1 New Oxford Street refurbishment were included in the overall awards winners list.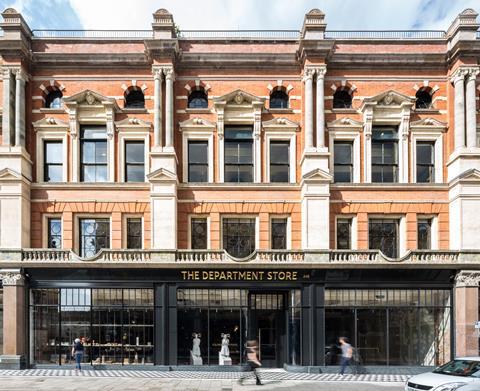 Maccreanor Lavington had five entries on the list – the most of any practice, including Kingsgate School in Camden, and Grange Primary School and Charles Dickens School both of which are in Southwark. The practice's other two winners are South Gardens at Elephant Park and its 1,500-home Royal Albert Wharf scheme in Docklands.
Hawkins Brown had three entries on the list, including 53 Great Suffolk Street and Hackney Town Hall. AHMM had the same number, including its White Collar Factory at Old Street. RSHP's Leadenhall Building, which completed in 2014, also won an award, as did Chris Dyson Architects' refurbishment of the Regency pub the Sekforde in Clerkenwell.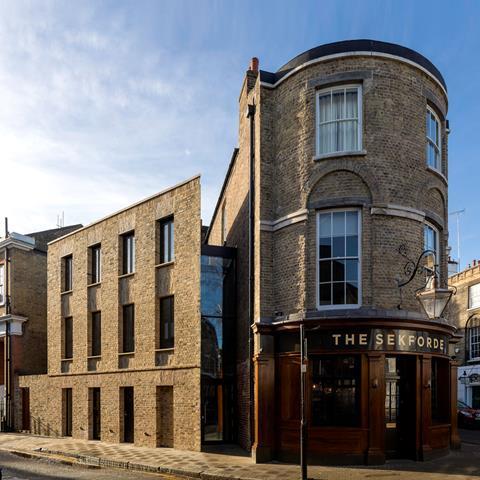 RIBA London director Dian Small said the fact that the winners – whittled down from a shortlist of 93 – included 14 housing schemes, eight schools, a city farm, and a range of cultural institutions was a testament to the diverse way the capital used its creative skills.
"London has perhaps the highest concentration of design talent found anywhere in the world," she said.
"It is that concentration of diverse talent, skills and exchange of ideas that makes London such an exciting and challenging place to work in the field of architecture.
"It's testament to the drive and passion of our members that, again, we have seen the largest-ever number of schemes shortlisted for the RIBA London Awards.
"Our members are building more – and better – buildings than ever before; constantly enhancing the landscape and skyline of our region."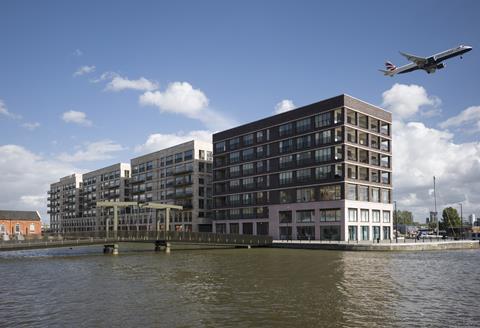 Maccreanor Lavington founding director Richard Lavington said his practice's haul of awards was "an amazing achievement".
"We have seen a number of projects complete this year and this is an opportunity to stand back and recognise what we have achieved and all the hard work it has taken to get there," he said.
Lavington also thanked the practice's clients for their "commitment to design quality".
In addition to the Best London Building award shared by Levete and Ritchie, RIBA made a handful of further special awards.
Chris Dyson won the RIBA London Sustainability Award for the Sekforde; Butler Hegarty Architects won the RIBA London Conservation Award for its Turner's House project; and 31/44 Architects picked up best small project for Red House.
All of the London awards winners are in the running for the RIBA National Awards, winners of which will be announced on June 21.
| Project Name | Practice |
| --- | --- |
| 15 Clerkenwell Close | Amin Taha and Groupwork |
| 25 Savile Row | Piercy & Company |
| 53 Great Suffolk Street | Hawkins Brown |
| 70 Wilson | Astudio |
| Abell and Cleland | DSDHA with delivery architect EPR |
| Alex Monroe Workshop | DSDHA |
| Belvue School Woodland Classrooms | Studio Weave |
| Bethnal Green Memorial | Arboreal Architecture |
| Black Stone Buildings | 6a Architects |
| Bloomberg, London | Foster & Partners |
| Brentford Lock West Block E | Mae with White Ink Architects and Claude Maguire |
| Bridge Theatre | Haworth Tompkins |
| Caroline Place | Amin Taha and Groupwork |
| Central Parade | Gort Scott |
| Chadwick Hall | Henley Halebrown |
| Charles Dickens School | Maccreanor Lavington |
| Dartmouth Park House | AY Architects |
| De Beauvoir Block | Henley Halebrown |
| Faraday House | dRMM with Simpson Haugh |
| Fitzrovia House | Carmody Groarke |
| Gasholder Park | Bell Phillips Architects |
| Gasholders London | Wilkinson Eyre with Jonathan Tuckey Design |
| Gin Distillery | Open Practice Architecture |
| Grange Primary School | Maccreanor Lavington |
| Hackney Town Hall | Hawkins Brown |
| Hazelhurst Court | Levitt Bernstein |
| Ivydale Primary School | Hawkins Brown |
| Kings Crescent Estate Phases 1 and 2 | Karakusevic Carson Architects and Henley Halebrown |
| Kingsgate Primary Lower School | Maccreanor Lavington Architects |
| Knox Bhavan Studio | Knox Bhavan Architects |
| Marlborough Primary School | Dixon Jones |
| No1 New Oxford Street | Orms |
| R7, Kings Cross | Duggan Morris Architects with Weedon Architects |
| Red House | 31/44 Architects |
| Riverlight | Rogers Stirk Harbour & Partners with EPR Architects |
| Royal Academy of Music: Susie Sainsbury Theatre and Angela Burgess Recital Hall | Ian Ritchie Architects |
| Royal Albert Wharf Phase 1 | Maccreanor Lavington with detailed design by RMA Architects |
| Salters Hall | De Metz Forbes Knight Architects |
| Sandringham Central at Sandringham Primary School | Walters & Cohen Architects |
| Shaftesbury Theatre | Bennetts Associates |
| South Gardens | Maccreanor Lavington |
| St Augustines Church | Roz Barr Architects |
| St James Market | Make Architects |
| Streatham and Clapham High School - Phase One and Two | Cottrell and Vermeulen Architecture |
| Sutherland Road | Levitt Bernstein |
| The Bourne Estate | Matthew Lloyd Architects |
| The Department Store | Squire and Partners |
| The Leadenhall Building | Rogers Stirk Harbour & Partners |
| The Makers House | Liddicoat & Goldhill |
| The Sekforde | Chris Dyson Architects |
| Turner's House | Butler Hegarty Architects |
| University of Roehampton Library | Feilden Clegg Bradley Studios |
| Upper Richmond Road | Allford Hall Monaghan Morris |
| VEX | Chance de Silva & Scanner |
| Victoria & Albert Museum Exhibition Road Quarter | AL_A |
| Victoria & Albert Museum Members' Room | Carmody Groarke |
| Victoria Hall King's Cross | Stanton Williams |
| Walthamstow Wetlands | Witherford Watson Mann Architects |
| Waterloo Community Farm | Feilden Fowles Architects |
| Weston Street | Allford Hall Monaghan Morris |
| White Collar Factory | Allford Hall Monaghan Morris |