Authorities line up to make article 4 directions – but secretary of state will have final say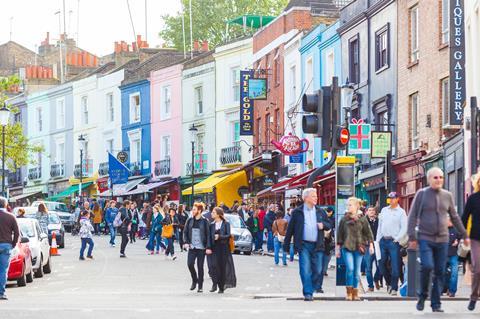 Local authorities across the country have begun fighting back against the government's attempt to allow almost every premises in their town centres to be turned into housing without the need for planning consent.
The City of London Corporation and Wandsworth, Kensington & Chelsea and Richmond councils in west London are among the first to make what are known as article 4 directions, but others nationwide are following suit, according to the Local Government Association. Councils were only permitted to make the directions at the start of this month when the new rules came into effect.
The notices will be deferred for a year while councils consult and the housing secretary asks for more evidence and then makes the final decision. He has been known to reject or amend similar requests. Deferral also protects a council from compensation claims.
An article 4 direction nullifies, in a defined area, a permitted development (PD) right – in this case the right that came into force at the start of this month allowing anyone to convert into housing a unit classified as Class E. This new use class covers almost all commercial premises from shops, estate agents and solicitors to gyms, restaurants and cafes, as well as hairdressers, surgeries, covid testing centres, offices, nurseries and workshops.
When Class E and the associated prior approval right were first touted at the end of last year architects, planners and even some developers warned that it could be disastrous for high streets and smaller commercial centres.
With town centres under unprecedented pressure because of changing shopping patterns and 18 months of rolling covid lockdowns, local authorities say now more than ever they need the power to reserve units for commercial use. For instance if a high street is shrinking in the face of closures, a council might want to allow vacant shops at either end to become housing – but to protect a central cluster. However, PD allows them only to take into account a very limited number of issues such as flood risk. They are not allowed to consider the impact of the loss of a local amenity on the community, for instance.
When office-to-resi PD rights were introduced in 2013 several boroughs secured article 4 exemptions. And they were enthusiastically deployed by prime minister Boris Johnson when he was the mayor of London to protect the capital's commercial heartland.
Senior planner at Wandsworth council Richard Crutchley said he feared the deregulation could lead to a "free-for-all" which would damage on local centres and small parades and force residents to travel further to access shops and services.
"We understand what's trying to be achieved in terms of avoiding vacancies within areas and encouraging housing within vacancies, where it's appropriate," he said.
"Our concern is that there's a potential for a free-for-all in town centres with this new permitted development right. Centres that are already suffering now face another threat. And it's not just shops but services which people rely on that are being lost and we're not able to do anything about it."
PD renders aspects of the council's local plan – which tries to "protect and curate those services so they are concentrated in accessible locations" – unenforceable.
Wandsworth has made an article 4 direction for a string of districts whose character and vibrancy it wants to protect. It expects the housing secretary to request evidence of the need for protection in the next few weeks. It will have a further month or two to supply this, based on surveys and other data, with the secretary of state making his decision in time for any exemption to come into effect next August.
The new NPPF specifies that article 4 directions should be geographically limited in scope. Yet in neighbouring Kensington & Chelsea the council has applied for the whole borough to be exempted because of its small size and the scattering of businesses. Officers say they are quietly confident of success because the borough was granted such an exemption from the office-to-resi PD right in 2013 and again in 2019.
Amanda Reid, the borough's director of planning and place, wrote in a report to the council's leadership team: "The impact [of the new Class E PD right] is likely to be significant. It is likely to result in the loss of at least 14,600 office jobs from the borough as well as break up existing business clusters and disrupt our nationally significant 'culture, media and entertainment' sectors. It will hinder our ability to meet our objectively assessed need for between 50,000sq m and 76,000sq m of new office floorspace. It is also likely to threaten some 520 Class E commercial units in our neighbourhood centres and within the more peripheral parts of some of our larger centres."
The borough's unusually high property prices put business premises at even greater threat than in some other parts of the country, she said.
The borough did not have one "town centre", so to protect a specific area would not protect all its high streets, added a spokesperson.
"We're a series of villages in central London," they said. "Places like Portobello Road and Sloane Street provide vital services to local people but are also iconic locations of national and international significance due to their mixed uses and they're at opposite ends of the borough."
In the case of the City of London, its article 4 direction would also cover the entire Square Mile, with the corporation's chief aim to stop office space being lost to resi.