Matthew Barnett Howland, Dido Milne and Oliver Wilton bag RIBA small-budget award for ultra-low-carbon home
An ultra-low-carbon home built entirely from cork has won this year's Stephen Lawrence Prize for Matthew Barnett Howland, Dido Milne and Oliver Wilton.
The Cork House project – built in the grounds of a grade II-listed mill house on an island in the River Thames at Eton – was also shortlisted for the Stirling Prize.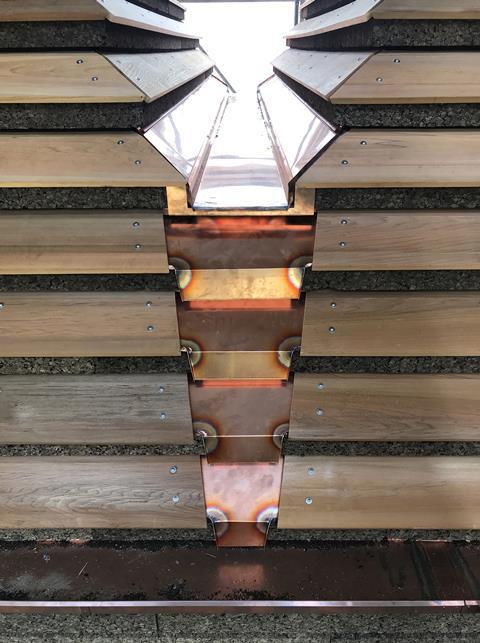 Cork House topped a shortlist of six for the Stephen Lawrence Prize, awarded to projects with a price tag of up to £1m. They were: Dualchas Architects' Black House; David Sheppard Architects' Green House; HASA Architects' Highgate Bowl; Pocket House by Tikari Works; and Jonathan Pyle's South London House.
While the Stephen Lawrence Prize specifically targets projects with a small budget, Cork House also has a small gross internal area: just 44sq m.
RIBA's project profile said the building's "biogenic construction" of prefabricated cork blocks and engineered timber made it carbon negative at completion, and would give it a "remarkably low" whole-life carbon profile.
The structure's expanded cork blocks were made using by-products and waste from cork forestry and the cork-stopper industry. They are held together without glue, instead using a tongue-and-groove profile and gravity. Each of the "pyramid roof" areas of the house marks out a different room.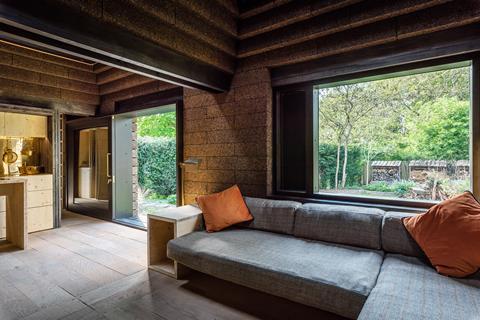 "As sustainability becomes integral to all construction, this development pushes us further to look beyond the requirements and aspire to really integrate ourselves with nature," the RIBA said.
"The inventiveness lies within the structure's ease of assembly. The whole house is 'designed for disassembly' and can be constructed by hand."
Cork House was designed, tested and developed in partnership with the Bartlett School of Architecture and has already won a 2019 RIBA National Award and two 2019 regional awards.
Barnett Howland and Milne are now directors of Eton-based CSK architects. They were co-directors at MPH Architects for the project, which CSK describes as an "affiliated research and development practice". Wilton is lecturer in environmental design at the Bartlett.
Tonkin Liu won the 2018 Stephen Lawrence Prize for its transformation of a farm shed in North Yorkshire into a new home.