Three-storey Nexus building is designed to nudge staff towards healthier behaviour
Coffey Architects' new headquarters for construction firm Nexus Infrastructure has been designed to reflect the personalities of the business' three work strands – and nudge staff towards healthier behaviours.
The 4,100sq m building near Braintree, in Essex, can accommodate 300 staff. Coffey said the 1.8ha brownfield plot where it is situated represented "both challenge and opportunity", because there was no urban guidance or townscape to inform its design.
Instead, the practice was able to work directly with orientation towards the sun and surrounding landscape to create a distinctive head office.
Nexus' Tamdown, TriConnex and eSmart subsidiaries cover civil engineering, utilities and electric-vehicle charging infrastructure. The business gave Coffey a brief to "embrace and intertwine" the purpose and personality of each subsidiary with the design of the new HQ.
The formal approach to the building is framed in an anodised aluminium entrance canopy. Coffey said the projecting portico was both an intentional inversion of the building's recessed windows and a thoughtful expression of the building extending out to meet its users.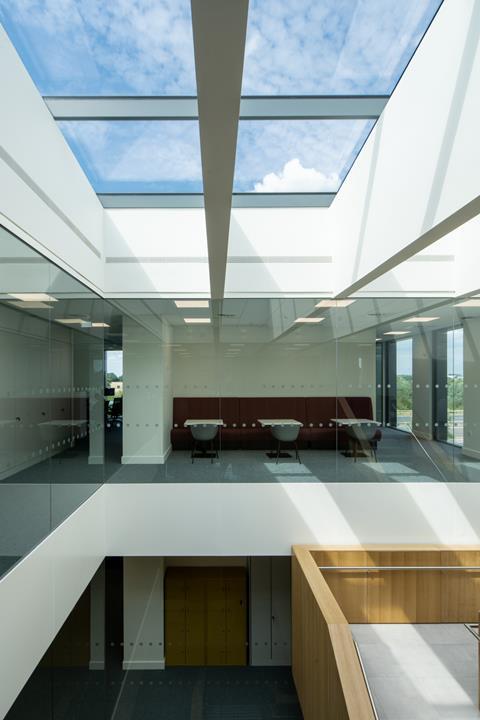 Immediately inside, a reception and café area featuring bespoke oak joinery aim to set the tone for a convivial and collaborative environment. Nexus staff are encouraged to work and socialise in the café and its adjacent courtyard.
Next to the café is a sculptural central stair that forms the heart of the building and leads upwards toward a large zenith rooflight that floods the atrium with natural light that permeates into each floor.
Coffey said staff were "passively guided" to take the stair instead of the building's lifts, due to its generous scale and easy connection to each part of the building.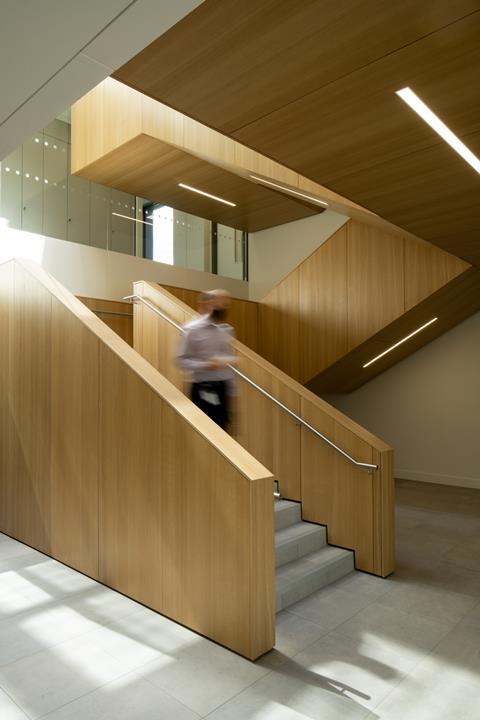 Director Phil Coffey said Nexus had been especially enthusiastic about the finished product, while staff feedback was also "overwhelmingly positive".
"This is a hard-working building in landscape," he said. "It was designed thoughtfully and the result is a well-built building that is exceptional value for money.
"In creating Nexus' HQ, we listened and responded to the client's brief, making informed decisions about material, orientation and budget along the way. This building proves considered design adds significant value even at low costs."
Nexus Park project data
Client: Nexus Infrastructure
Architect: Coffey Architects
Cost: £2,300/sq m
Project manager: Livemore
Landscape Architect: Camlins
Ecologist: Gary Grant
Contractor: Ashe Construction
QS: Livemore
Structural engineer: BDC
Services engineer: Waterstone Design
Principal designer: Jackson Coles
Acoustics engineer: Cundall
Sustainability Assessor: Cundall
Building Control: MLM