City scheme at 2 Finsbury Avenue drawn up by Danish architect 3XN
The planning consultant working on British Land's plan to build a 37-storey in the City of London has responded to objections raised by neighbouring authority Hackney last month.
The east London council said the proposal at 2 Finsbury Avenue would blight parts of the borough including the Sun Street conservation area, a grade II listed pub and locally listed buildings at 5-15 Sun Street.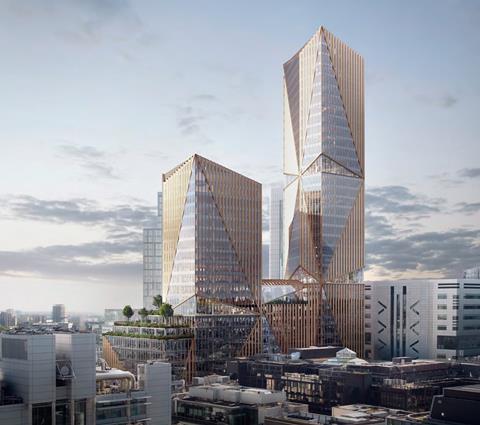 In its objections, Hackney said the revised scheme by 3XN – which replaces an already consented plan by Arup for a 32-storey tower – was "a significant increase in the bulk, height and scale of the proposed building" adding that it would "lead to increased visual dominance" over the buildings to the north and the area in general.
But in a reply Tavernor said the Sun Street conservation area "has been significantly redeveloped in recent times and is now largely characterised by the modern tall buildings of One Crown Place" – the 33-storey mixed-use scheme drawn up by KPF and being built by Mace.
It added it did not believe 3XN's design would be "visually intrusive" and that "the street experience and relationship with the listed and unlisted buildings of merit along Sun Street would be enhanced".
It is 3XN's first project in London and others working on the 2 Finsbury Avenue scheme include executive architect Adamson, the firm which worked on the Shard, structural engineer Ramboll, QS Core 5 and project manager Gardiner & Theobald.
It would feature just over 85,000sq m of office space, along with retail and restaurants.
It would replace an Arup scheme designed by the celebrated Peter Foggo, and is the latest piece of the original Broadgate estate to be under threat.
The scheme is due to go before City of London planners later this month.