Team beat Foster & Partners, Grimshaw and SOM to win international competition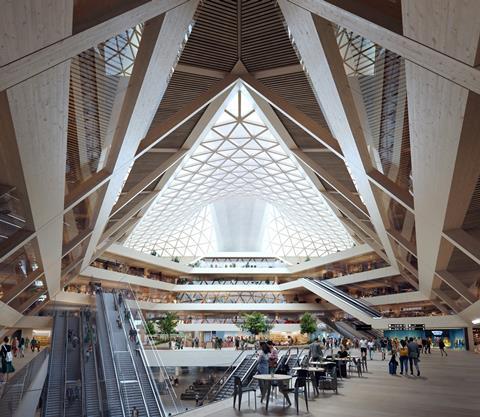 A BIG and HOK team has landed the job to design a new terminal at Zurich airport with proposals for a building comprised mostly of solid wood.
The pair beat the likes of Foster & Partners, Grimshaw and SOM to win the international competition, which was launched in 2020.
The scheme, known as Dock A, will be the airport's biggest terminal and is expected to open to passengers in 10 years' time.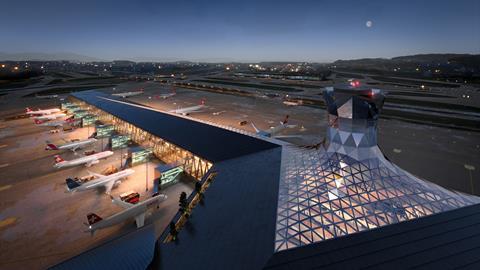 Inspired by traditional timber buildings of the Swiss alps, its structure, floors and ceilings will be constructed from locally sourced wood in a 'Raumfachwerk', or space frame, design featuring arrays of repeating triangular struts.
The building contains two main areas - a central seven-storey atrium topped with a huge skylight and a linear pier housing the terminal's waiting areas and gates.
Rising through the centre of the main skylight will be an air traffic control tower, visible from inside, which the team said will create a "town square" atmosphere in the central hub space.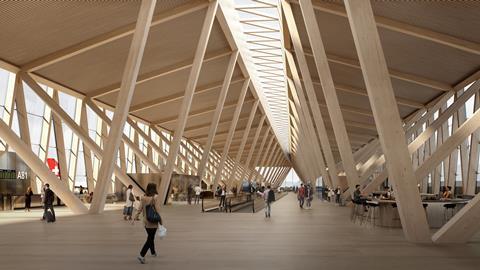 The atrium will be used as a meeting place and for shopping, with the skylight branching off into a long, tapering skylight running down the length of the pier.
The airport's chairman of the board of directors Andreas Schmid said the proposal was "the most convincing from a sustainable, operational and economic point of view, but also from an urban planning and architectural point of view".
Jury chairman Harry Gugger added that the timber design will create a "unique atmosphere" which creates a "distinctive identity true to its place and era".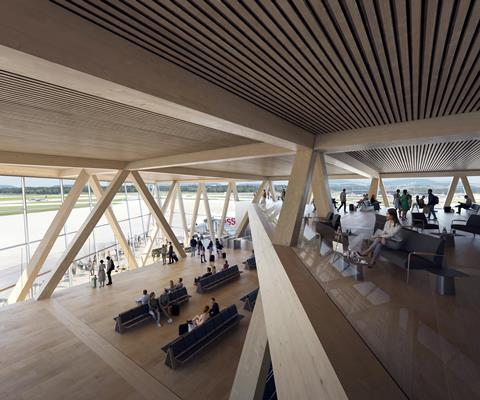 BIG founder Bjarke Ingels said the design was intended to be a simplified approach to an airport terminal.
"As airports grow and evolve and as international guidelines and safety requirements change, airports tend to become more and more complex: Frankensteins of interconnected elements, patches and extensions," he said.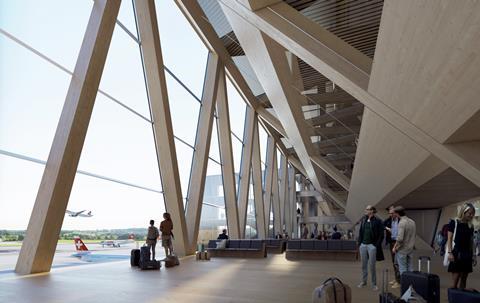 "For the new main terminal of Zurich Airport, we have attempted to answer this complex challenge with the simplest possible response: a mass timber space frame that is structural design, spatial experience, architectural finish, and organisational principle in one."
BIG partner Martin Voelkle added that the terminal's "visually calm" material palette, natural light and biophilia will help "redefine passenger expectations of the typical airport experience".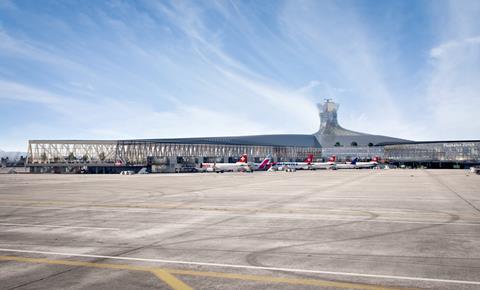 The roof of the building will also be entirely clad in solar panels, while the timber components will be largely prefabricated during the construction process.
Others working on the design team included 10:8 Architects, engineer Buro Happold, timber specialists Pirmin Jung and aviation consultant NACO.