Work due to start on Abney Park project - on site of mothballed supermarket scheme
Work is set to start on a Belsize Architects-designed mews development in north London that will deliver 19 homes and around 900sq m of commercial space.
Created for Casa Bella Developments, the Wilmer Place scheme sits within the Stoke Newington conservation area and is a stone's throw from Abney Park – one of the capital's "magnificent seven" garden cemeteries.
The wider site has a controversial history. In 2014, AHMM won consent for a scheme that would have delivered a supermarket and 53 new flats, but the scheme foundered after the anchor retailer Sainsbury's pulled out.

Hackney council approved the Belsize scheme in December – more than doubling the number of homes from proposals consented in 2017. Belsize said its proposals still protected and enhanced the local environment.
"A mews typology creates a legible visual relationship with the surrounding buildings, bringing a coherent architectural character and a strong sense of place," it said.
"A large open space in front of the building forms a green square which helps to redefine the urban fabric locally and provides an environment for neighbours to connect.
"The new development allows the visual connection with the adjacent Abney Park by breaking up the massing which in turn helps to soften the impact of a new building in relation to the existing surrounding fabric."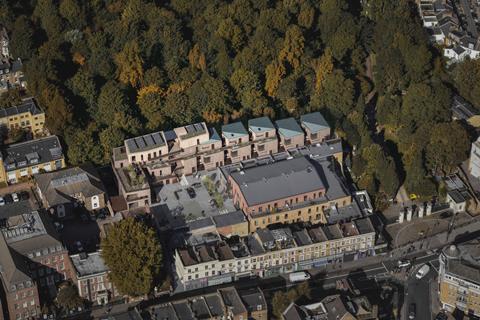 Belsize said it had chosen to deploy two brick tones to distinguish the scheme's top floor from the main body of the building, while dark timber had been used on balustrades, fences and residential doors to "add to the domestic feel" and unify the scheme.
"Wildflower roofs, green walls and photovoltaic panels all contribute to the scheme's inherent sustainability," the Hampstead-based practice said.
"Extensive landscaping and planting is proposed to protect and enhance biodiversity."
Belsize said the project was expected to start on site in the summer.