Practice announces approval for £4.3m extension and upgrade work at Surrey public school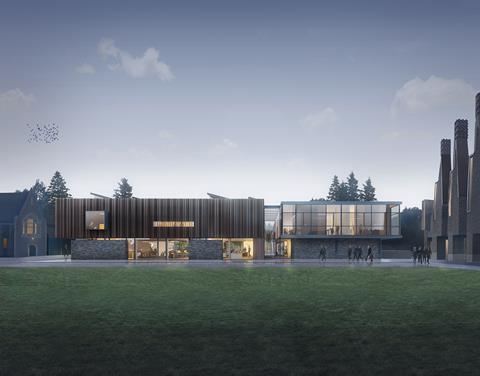 A £4.3m scheme to upgrade facilities at Surrey public school Charterhouse has won the backing of Waverley Borough Council.
Ayre Chamberlain Gaunt said it has been granted consent to deliver a new art and design technology space at the Godalming school and refurbish James Dartford's 1957 studio building.
The latest works will form part of a campus masterplan designed to support the school's growth and its transition to co-education.
Under the proposals, Dartford's modern movement block will get a new exterior envelope and internal reconfiguration, while ACG will deliver a new studio building – technically described as an extension – and a new courtyard. New glazed connecting links will also join the Dartford building, the new structure and Charterhouse's existing John Derry Technology Centre.
The practice said its design for the project responded to the historic school buildings' "unique roofscape", which is characterised by distinct horizontal banding of clay tiles in red and blue.
"The proposed façade system is a screen of vertical clay baguette tiles with subtle tonal and colour variation," it said.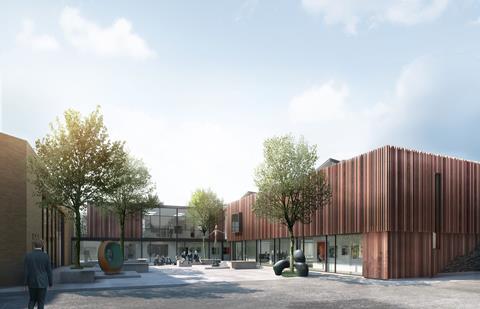 "The tiles envelop the building to create a richly layered and textured skin, through which curated views of the campus are either veiled or revealed."
ACG said its building design also enabled flexibility and adaptability, offering spaces that support different types of learning, including large-scale workshops, collaborative studio environments, specialist skills sessions, self-directed study, informal seminars and exhibitions.
The project is due for completion in October 2023.
Charterhouse counts journalist David Dimbleby and performer Peter Gabriel among its past pupils. Fees for boarders are currently £13,802 a term.