Practice says CLT structure and ground-source heat pumps will deliver 'strong sustainability credentials'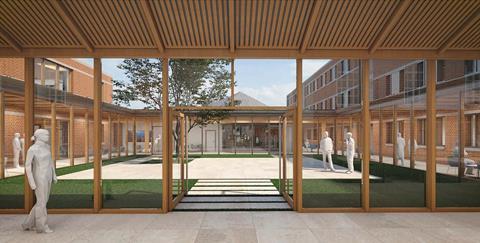 Hopkins Architects has secured planning permission for a science and technology block at independent Haileybury School in Hertfordshire.
The project, which was won through a design competition, will offer experimental teaching and interactive space as well as a dedicated Stan-X laboratory run in collaboration with the University of Oxford and Stanford University.
Hopkins said the project would "open up the rear" of Herbert Baker's 1930s neo-classical science building at the school creating a new courtyard with cloisters, of which the new two-storey research block would form one side.
Hopkins said the project would also have "appropriately strong sustainability credentials", with all new construction in cross-laminated timber to reduce embodied carbon. It said operational energy was kept to a minimum by the use of ground-source heat pumps linked to bore holes and natural ventilation supplemented by mixed-mode ventilation in the laboratories. Green roofs are also a feature.
Practice principal Mike Taylor said Hopkins' vision for the project integrated existing buildings and new accommodation, and that the courtyard would bring disciplines together both symbolically and physically.
"The new cloister will become an active social hub for the science and technology disciplines," he said. "The combination of activities and the interaction between them points to how science and technology could be taught in schools in the future."
Last year Haileybury School said it was looking to raise £15m to support the delivery of its "SciTech Building".
Haileybury currently charges £37,215 a year in fees for senior boarders. Past pupils include Rudyard Kipling, Alan Ayckbourn, Dom Joly and Stephen Mangan.