Slim 21-storey block would tower above grade I synagogue
Assael Architecture has revealed proposals for a 21-storey City tower that would replace a low-rise 1970s office development east of Foster & Partners' Gherkin.
The practice's proposals for 33 Creechurch Lane were lodged with City of London planners last year but have only just been validated by the authority. They would be Assael's tallest commercial building to date.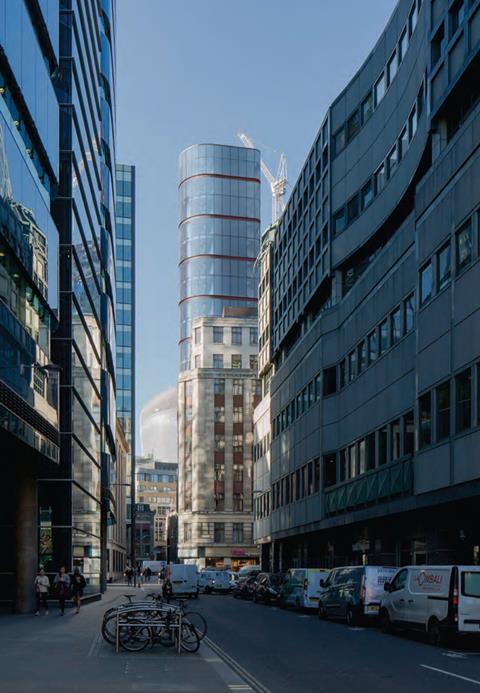 According to documents supporting the proposals, the scheme – created for developer Merchant Land – would deliver around 10,000sq m of new space, including a ground-floor shop on the 0.05ha site.
Assael said the building was a "gracile" response to its "prominent City location" echoing other contemporary glazed buildings at the same time as paying respect to the neighbouring Bevis Marks Synagogue, which is grade I listed.
Application documents said pre-cast concrete panels facing the synagogue would feature a relief based on a transformational arch pattern inspired by the remains of St Botolph's Priory in Colchester, the "mother house" of Holy Trinity Priory which previously stood on the Creechurch Lane site.
The practice added that Merchant Land's brief for the £26m scheme had been to create "unique flexible spaces" that were suitable for small and medium-sized enterprises. It said that creating workspaces that improved tenants' wellbeing and encouraged activity had also been a key aspiration.
The scheme has 19 floors of offices above ground and mezzanine levels, with each office level offered as a 444sq m individual unit with its own 41sq m balcony.
"Cycle facilities are not just provided, but are expressed and celebrated as part of the building's elevation," Assael said.
"Winter gardens, green walls and terraces run up the entire height of the building, and the uppermost floors are set aside for dedicated shared amenity space to encourage workers to step away from their desks and promote a healthy lifestyle."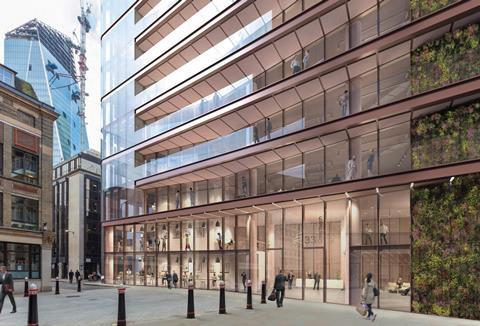 A design and access statement supporting the application said the existing six-storey building on the site bore "no relation to the existing and emerging public realm" and featured red marble and brown spandrel panels that had "aged and deteriorated considerably" over the past 40 years.
The City of London suggested it expects to determine the proposals by April.