Week of protests kicks off ahead of UN summit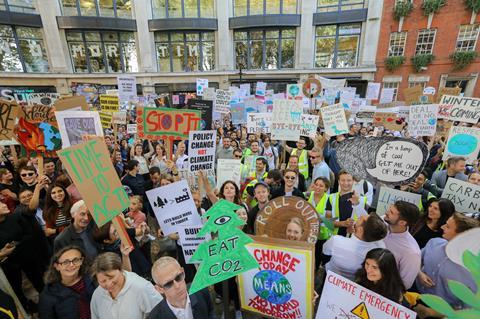 Architects around the country are taking part in today's climate strike protest in a bid to force politicians to take the environmental crisis seriously.
Millions of people in 150 countries were predicted to be joining in with today's protest which comes three days before a UN emergency summit in New York.
It is the start of a week of high-profile action in which adults are joining the children who have been holding school strikes every Friday since young Swedish activist Greta Thunberg started the movement last year.
Architects were set to show their support in a variety of ways such as joining one of the 150 protests around Britain – including strikes in Westminster and at Hackney Town Hall and from Brighton to Iona, Enniskillen to Hull.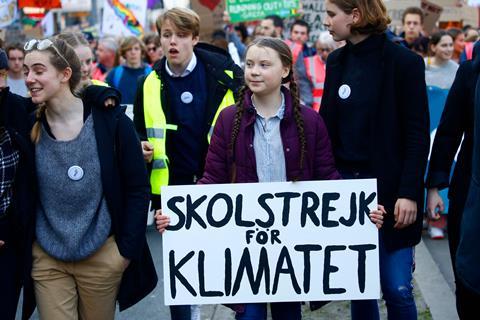 Feilden Clegg Bradley said it was encouraging staff to march with the school strikers before linking its offices in London, Bath, Manchester, Edinburgh and Belfast for an informal carbon footprint review and an afternoon of collaborative zero-carbon project workshops with guest speakers.
The practice was also one of the original Architects Declare group of Stirling Prize-winners which announced a climate and biodiversity emergency and pledged to fast-forward construction's efforts to mitigate the industry's impact on the environment. It has now been signed by more than 620 practices.
We're placard making for Friday's #climatestrike @FCBStudios today pic.twitter.com/KZb7SFXERT

— Anna Rank (@anna_rank) September 18, 2019
Co-founder Peter Clegg said: "When we started the practice we were determined to do things differently. There was a sense of rebellion in the air, and we seem to be rekindling that now.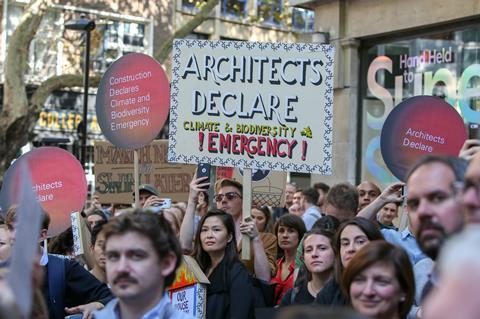 "As individuals, we can all make a difference, but if we can collaborate and work together with our clients, our teams and our colleagues, sharing our knowledge and experience, that difference can be multiplied exponentially."
The practice's research & innovation lead, partner Ian Taylor, added: "In response to the climate emergency, we are taking considered action that affects every aspect of our work and life.
"In analysing what has worked, and what has failed, in the past we can build up a body of knowledge that can be applied to how we shape and inhabit our built environment. Through access to research and data, creative reuse and new social systems, there is still hope that we can slow climate change."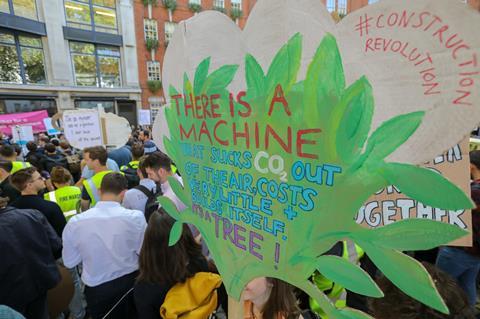 Other practices taking part in today's action include 5th Studio, Grimshaw, Architype, Levitt Bernstein and Waugh Thistleton, which said it was closing completely for the day so staff could join the strike.
Mikhail Riches issued a statement saying: "An estimated 38% of global energy-related emissions come from buildings and the construction industry.
"Our ideas and decisions have a direct impact on our planet's future. Designers, consultants, contractors and clients – we are all in a position where together we can make a difference through the careful and considered design of our built environment.
"We ask our colleagues, clients and those in power to respond actively to the grave concerns of our younger generation. We need to act now."
On Friday, millions of people around the world will walk out of workplaces & homes to join young people as they demand an end to the age of fossil fuels & climate justice for all. We proudly support our teams from around the world as they take to the streets.#ClimateStrike pic.twitter.com/ROV3TO6TCf

— Grimshaw Architects (@GrimshawArch) September 19, 2019
Last night's debate at the Barbican Centre entitled The Architecture of Emergency sold out. The panel featured Maria Smith of Interrobang, Andrew Waugh of Waugh Thistleton, Adrian Lahoud, dean of the RCA's archutecture school and a number of activists.
Climate strike organisers said: "Everyone is needed to disrupt business as usual… Our greatest hope is simply to show that those working on this crisis have the backing of millions of human beings who have a growing dread about the climate emergency but who have so far stayed mostly on the sidelines."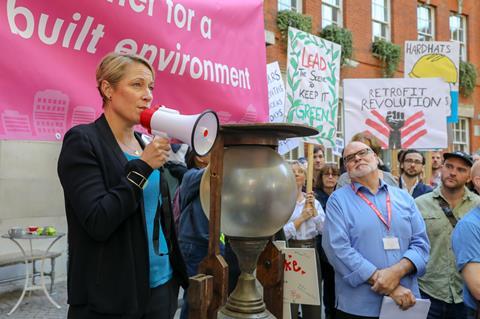 Meanwhile the UKGBC today launched its Climate Commitment Platform, a website where organisations working in the built environment can publicise their commitments and carbon targets. The first firms to sign up included Bennetts Associates, Buro Happold, Multiplex and Derwent.
The UKGBC said it hoped the website would also "galvanise further action and ambition across the sector" and allow firms to share knowledge as they pursue net zero emissions.