Specialist knowledge could sit alongside fire safety competences, says registrar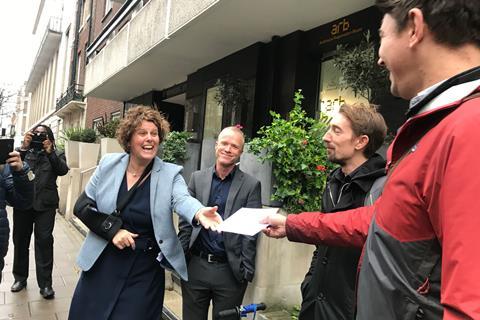 The Architects Registration Board has announced it is considering adding climate-related design skills to its official criteria for qualifying as an architect.
Understanding of climate change mitigation could sit alongside fire and life safety competences, the professional regulator said today.
The Arb board began this work in July and has established two working groups which are due to meet for the first time in January. They have been asked to prepare proposals for a board meeting in March, after which – if approved - they would go out for consultation.
The announcement comes in a formal response to a letter delivered to Arb chief executive and registrar Karen Holmes earlier this month by a delegation from the Architects' Climate Action Network. The delegation, which included Marks Barfield co-founder Julia Barfield, was arranged in solidarity with Studio Bark architect Tom Bennett who was arrested during an Extinction Rebellion protest.
Any architect who is convicted of a crime has to inform the Arb, with Holmes considering whether the conviction has a bearing on their professional ability.
Holmes confirmed that Bennett's case will require no further action.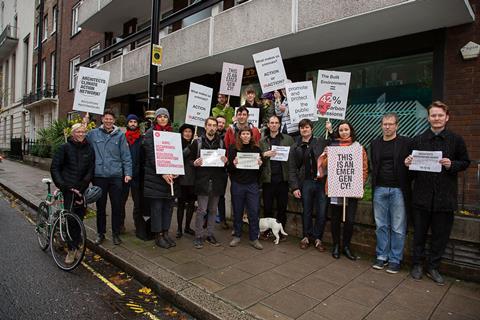 The Arb has also published new guidance to protestors and activists who may find themselves risking arrest, which "clarifies that protesting is not prohibited under the Architects Code".
"I can confirm no further action is required in his case," said Holmes. "I must however stress that for any architect to be convicted of a criminal offence is a serious matter, and while the unique facts of this case did not warrant disciplinary action, architects should not assume that a failure to comply with the law will leave them free from additional regulatory sanctions.
"Environmental sustainability and climate change are important issues for the profession and us. We reached out to ACAN early in the year and so were pleased that Tuesday's event provided the opportunity for us to share our plans in relation to climate change and discuss opportunities to work in collaboration.
"At Arb we recognise the value of diverse perspectives and it was great to get ACAN's view on the role architects in responding to the climate emergency and the role professional regulation could play in this.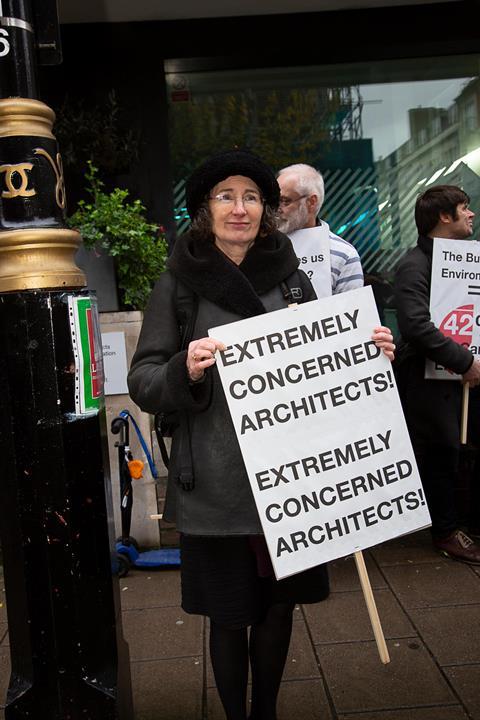 "The climate emergency means that architects of the future may need to have enhanced skills and knowledge to play a key role in the design and construction of safe, sustainable buildings and spaces. We were able to take ACAN through our plans for 2020 and explain that at its meeting in July this year our Board agreed to undertake targeted work to explore whether our criteria - the standards and attributes individuals must meet to become an architect in the UK - should be supported by further guidance on climate change. This activity will run alongside similar work considering fire/life safety design competencies."
She added: "We hope an outcome of this work will be reassurance that those undertaking their studies in architecture will develop sufficient knowledge of design principles and building technologies to meet the challenges of architectural practice in the context of global heating as well as fire and life safety design at each stage of their training."
Bennett said he was relieved to have clarity about his case and grateful not to have to face a disciplinary process.
He added: "I hope the Arb's move to provide guidance around protest and criminal convictions will bring clarity to others who wish to use their agency as citizens to agitate for meaningful societal action on climate and environment."
He was accompanied in the meeting with Arb by Barfield and Alasdair Dixon of Collective Works who sits on the RIBA's ethics and sustainable development commission.
ACAN thanked the Arb for opening a dialogue and said it was pleased to have got the issue on to the professional agenda.
In a statement the group said: "We have put forward a number of specific proposals including that the Arb declare a climate emergency, review the code and guidance in addition to setting benchmarks and requirements for carbon literacy in a pragmatic and proportionate way.
"We look forward to working with the Arb on these and to further conversations about changes to professional regulation in the context of the climate and ecological emergency."
The Arb's new guidance on taking part in protests is here.
Postscript
This story has been updated to include comments from Tom Bennett and ACAN.