Future Trends survey highlights threefold increase in practices reporting schemes being scrapped because of delays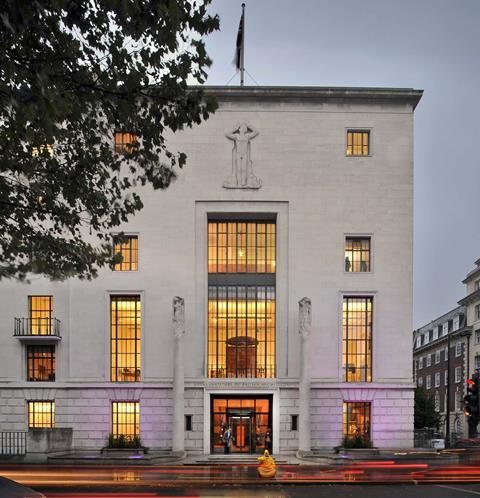 Architects are reporting a significant increase in projects being cancelled because of delays in the planning process, according to RIBA's latest barometer of sentiment within the profession.
While the institute's latest Future Trends survey paints a general picture of positivity around workloads and staffing levels, it shows three times as many practices reporting projects being scrapped because of planning delays than was the case two years ago.
Last month 22% of practices reported projects being abandoned in the previous three months because of delays in processing planning applications. The figure was 7% for the same period in 2021.
The results of April's Future Trends survey, released at the end of last week, also found 47% of the practices who took part reporting that some of their projects had been delayed by six months or more. In 2021 the figure was 30%.
RIBA said just 15% of practices reported no projects being delayed, compared to 22% in 2021. A total of 281 practices of varying sizes fed their responses in to April's survey.
Resourcing in local authority planning departments has been under pressure for more than a decade and processing delays have been a longstanding concern for practices. Nevertheless, the latest Future Trends results suggest a worsening of the situation.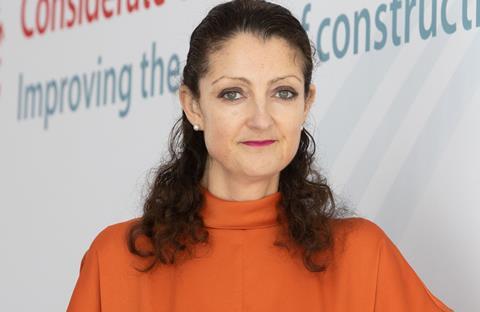 Adrian Malleson, RIBA's head of economic research and analysis, said that at a time when architects were cautiously optimistic about future work despite inflation and interest-rate increases, planning woes were a further hindrance for many.
"The speed with which planning applications are being processed is deteriorating compared to two years ago, delaying projects, holding back architects and the creation of the buildings we need," he said.
Royal Town Planning Institute chief executive Victoria Hills said the survey results were "alarming" and illustrated the consequences of a failure to properly resource council planning departments.
"The ongoing housing crisis demands our immediate attention," she said. "Without a sufficiently resourced planning system, the homes that individuals, families, and communities desperately need will remain out of reach."
Commercial-sector optimism returns
Overall, architects' outlook for future work remained positive in April, with the Future Trends Workload Index staying at +8, the same as March.
Twenty-eight percent of practices said they expected workloads to increase, 51% said they expected them to stay the same, and 21% expected them to decrease.
For the first time in more than a year practices participating in the survey said they expected more work from the commercial sector, however optimism declined in the housing sector.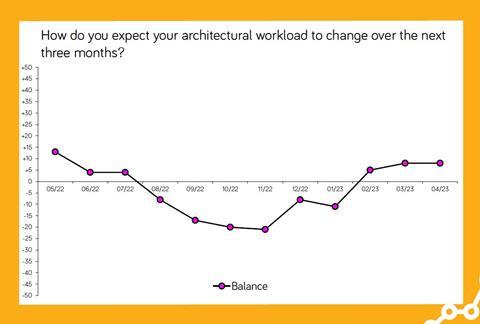 Most regions were positive about future work. Sentiment in the North of England rose by 10 points to +28. Sentiment remained negative in the Midlands & East Anglia (-5); meanwhile, the South of England fell into negative territory dropping 10 points from +8 in March to -2 in April.
The Future Trends Permanent Staffing Index remained positive, with 11% of practices expecting to employ more staff over the coming three months, 81% expecting no change, and 8% expecting to employ fewer permanent staff.