'We're all insanely proud' say colleagues
Architect Neil Campbell has set a new cycling speed record of 174mph on a £15,000 partly 3D-printed bicycle.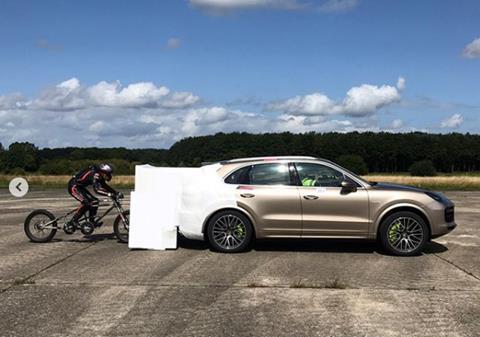 The 45-year-old from Essex broke the previous record of 167mph when he was released from the back of a speeding Porsche Cayenne on a Yorkshire airfield.
His colleagues at ADP Architecture in Colchester said this morning: "We're all insanely proud of him."
He was not back at his desk yet, they added.
Campbell, who had been working up to the attempt for five years with Operation Pacemaker, told the Guardian: "I am thrilled and relieved, the team worked amazingly well."
The specially adapted Porsche pulled him down the airfield before releasing him at speed. When he was clocked at 174.34mph he was travelling under his own power.
The bike was built by Moss Bikes using parts from a motocross bike and others that were 3D-printed.
He has now set his sights on reaching 220mph on salt flats in Utah.