Soho Place located next to the former site of the demolished Astoria Theatre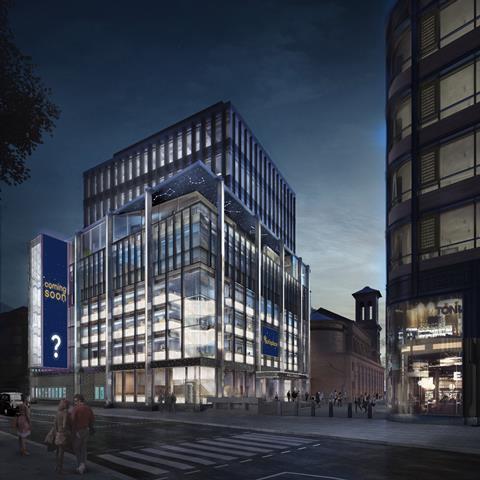 The West End's first newbuild theatre for 50 years will open this autumn, the scheme's designer AHMM has announced.
Soho Place will house a 600-seat auditorium on a site directly above the new Elizabeth line station at Tottenham Court Road, next to the former site of the Astoria theatre which was demolished to make way for the station.
Simon Allford, the practice's executive director and the president of RIBA said the project, which has taken 12 years to complete, was "undoubtedly the most complex and delightful" he had ever worked on.
It is part of a £300m mixed-use scheme designed for developer Derwent which also includes new office, retail and public realm space spanning 285,000 sq ft.
The auditorium, which was designed by Haworth Tompkins with theatre consultants Charcoal Blue, is described as having perfect acoustics and unobstructed sightlines from every seat.
"I wanted to create a theatre which could add a different dimension to our vibrant West End landscape," the building's owner Nica Burns said.
"I asked our greatest theatre creatives two questions: if we could build a new theatre in the heart of the West End, what would you like it to be? What additional facilities would be on your wish list?
"They dreamed of a flexible auditorium, perfect acoustics and intimacy between the stage and the audience. So that's what we built".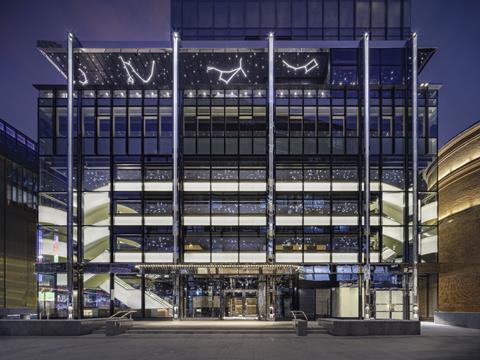 Burns said it was inspired by the ancient theatre of Epidaurus in southern Greece, which has been renowned since its construction in the 4th century BC for its acoustics.
"I was standing on the stage of this great ancient theatre at 8 o'clock - show time - as the last rays of a golden sun were coming through the trees and the stars were starting to twinkle in an indigo sky. It was magic," she said.
"Epidaurus is one of the greatest theatres in the world and the plays of ancient Greece are still part of our theatre heritage today.
"The interior of Soho Place reflects these colours and when you walk through the theatre you walk under crystal star lights, laid out in constellations."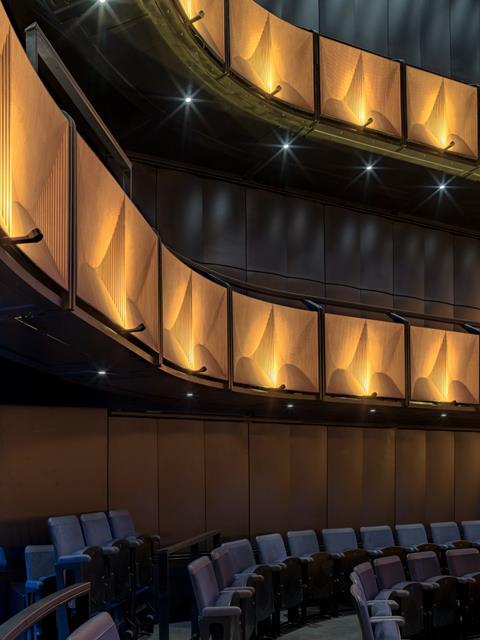 Like the theatre of Epidauris, Soho Place's seats will be in the round when it opens, but it can be changed into a number of different configurations.
Allford said the scheme had the "highly engineered architecture and design of a Swiss watch but built on an urban scale".
The building, which will be operated by Nimax Theatres, also contains a rehearsal room, a green room, a bar, an outside terrace and a 17m-long digital screen for advertising the productions.
It was built by main contractor Laing O'Rourke with other firms on the project team including engineer Arup, acoustic consultant Gillieron Scott and theatre advisor Ian Albery.