Scheme will add two storeys to South Bank landmark and 'bring terraces back to life'
AHMM has submitted proposals to add two new storeys to Denys Lasdun's brutalist IBM headquarters on London's South Bank as part of a wider refurbishment of the 1980s building.
Its scheme includes enhancements to the ground floor of the existing building, which sits beside Lasdun's National Theatre, along with new restaurants and cafes fronting Queens Walk and the River Thames.
The client, Wolfe Commercial Properties Southbank – owned by the United Arab Emirates-based Easa Saleh Al Gurg Group – said AHMM's proposals would deliver new public space to ease crowding on the embankment walk, while the building's currently-unused terrace areas would be "brought back to life" to provide "highly sustainable, biodiverse and ecological" amenity space for occupants.
Planning documents submitted to Lambeth council said that more than 20,000sq m of new business-use space would be created as part of the proposals, which would see the building's gross internal floorspace increase from just under 28,000sq m to more than 50,000sq m.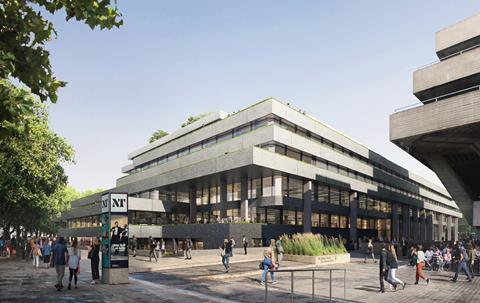 Wolfe said workspace for 2,000 additional employees would be created by the proposals, while the additional storeys would "respect the brutalist architectural style of 'stratification' and setting with the adjacent National Theatre", also designed by Lasdun. While the NT is listed at grade II*, the IBM building has only local recognition.
Easa Saleh Al Gurg Group general manager Abdulla Al Gurg said AHMM's proposals would "revitalise" an iconic building and help to maintain the vibrancy of the South Bank.
"We are delighted to have submitted a planning application to Lambeth council for the extension and modernisation of 76-78 Upper Ground on the South Bank," he said.
Lambeth has listed a statutory expiry date for determining the application in early May, but a longer timescale may have been agreed with the project team.
The proposals are open to public consultation until March 5.