Bid with Penoyre & Prasad and White Arkitekter pips RSHP, Bennetts, Hopkins and others for £200m facility
An Aecom-led team featuring Penoyre & Prasad and White Arkitekter has been picked to design a new central London base for Moorfields Eye Hospital in a project estimated to be worth £200-£250m.
The winners pipped shortlisted bid teams led by RHSP, Hopkins Architects, Bennetts Associates and Ryder Architecture in the RIBA competition, run on behalf of Moorfields Eye Hospital NHS Foundation Trust, the UCL Institute of Opthalmology and Moorfields Eye Charity.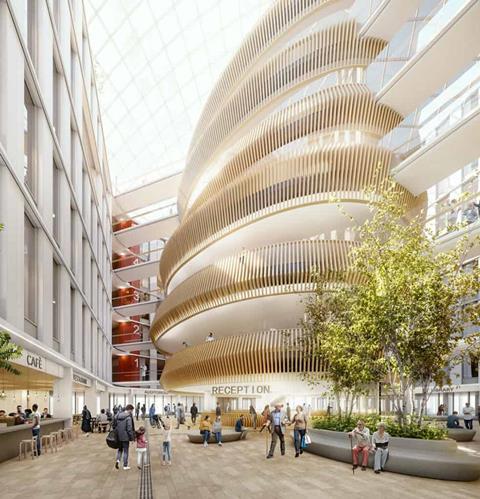 Expected to be open by 2026, the new facility – named Oriel – will relocate all services from the existing Moorfields Eye Hospital on City Road to a 45,000sq m joint facility at the St Pancras Hospital site some two miles away.
Aecom – which will act as lead designer on the project as well as providing civil, structural and building-services engineering on the project – said its team's winning proposal had focused on maximising collaboration and knowledge exchange.
Penoyre & Prasad will be the lead architect, setting the overall design strategy and the architectural vision for the building. White Arkitekter will be responsible for designing the interiors and external landscapes including the ambience and lighting of all public spaces, contributing knowledge from its practice-based research into healthcare environments.
Aecom said the team's proposal was flexible and adaptive and featured an "oriel" tower at its centre that intended to be the social heart of the building, enabling greater interaction between patients, clinicians and researchers.
It said the design was inspired by the Moorfields Eye Hospital crest "Fiat Lux", which means "let there be light" and features an interior infused with natural light designed on Scandinavian principles.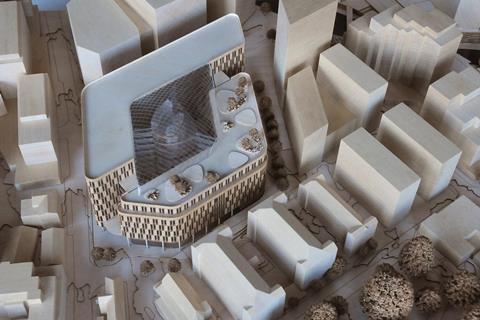 David Probert, chief executive of Moorfields Eye Hospital NHS Foundation Trust, said the winning team had been selected "due to its exemplary innovation and creativity, outstanding design quality, and previous experience in delivering health, research and education facilities" across the UK.
Penoyre & Prasad said the winning design was ranged on two wings of eight and six storeys stepping from the dense urban grain to the north of the site down to the "retained Victorian buildings and the magnificent trees" of St Pancras Churchyard to the south.
It said the "oriel" tower at the heart of the scheme would include a stack of waiting, meeting and study spaces together with main lifts and stairs to all floors.
White Arkitekter partner Charlotte Rueben said the clients had "expressed a curiosity for Scandinavian architecture" that was "evident in the holistic approach to both the interior and landscape design strategies".
The practice said the new facility could be open by 2025-2026.
The full Moorfields shortlist, announced in September 2018
Aecom with White Arkitekter AB and Penoyre & Prasad
Bennetts Associates with Reiach & Hall, Buro Happold and Gustafson Porter & Bowman
Hopkins Architects with Arup and Todd Longstaffe-Gowan
Rogers Stirk Harbour & Partners with Stantec, Arup, Gillespies, Speirs & Major and T Projects
Ryder Architecture with Hawkins Brown Architects, Spacehub Design, Hoare Lea, Rider Levett Bucknall UK and Ramboll UK