RSHP, Bennetts Associates, Aecom, Hopkins and Ryder shortlisted for £250m ophthalmology complex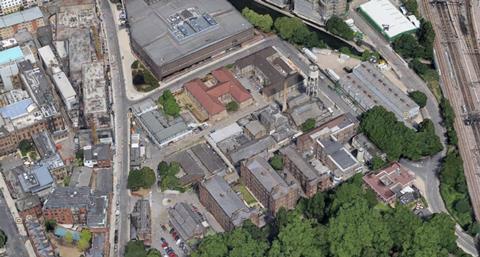 Some of the biggest names in UK architecture are in the running to deliver a new eye care, research and education facility for London with an estimated project value of £200-250m.
Teams led by RSHP, Bennetts Associates, Hopkins Architects, Aecom and Ryder Architecture have been shortlisted for the joint Moorfields Eye Hospital and UCL Institute of Ophthalmology base, being developed with Moorfields Eye Charity.
The RIBA Competitions shortlist also includes White Arkitekter, Penoyre & Prasad, Reiach & Hall, Hawkins/Brown, Arup and Spacehub as team members.
The project envisages the creation a new 45,000sq m facility at London's St Pancras Hospital site, around two miles from Moorfields Eye Hospital's current base on City Road and UCL's adjoining Bath Street institute.
In July, Bennnetts Associates won planning permission for the comprehensive redevelopment of the 1.14ha site immediately north of the hospital grounds – currently home to a former Royal Mail complex known as the "Ugly Brown Building".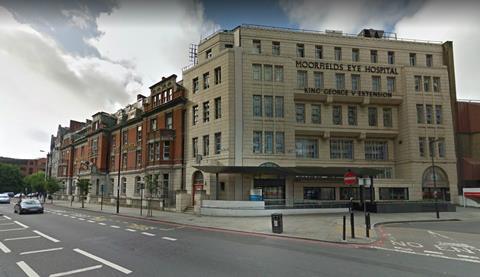 Kieran McDaid, director of capital estates and major projects at Moorfields Eye Hospital, said the new facility would bring together eye care, research and education for the first time, and be focused on patients and attracting and retaining the best ophthalmic scientists, educators and clinicians.
He said the shortlist announcement marked an important phase of the project, which would allow the clients and organisers to begin visualising what the new facility would look like.
"The joint partners were very pleased by the quality and innovation presented in the submissions of the shortlisted teams," he said.
"We are excited to see the preliminary designs proposals that each shortlisted team will submit for the next stage.
"We'd like to extend our thanks to all teams who submitted applications to design this new, world-class facility."
Preliminary design proposals are set to go on public display in late November, with the winner due to be announced in December.
The full Moorfields shortlist
Aecom with White Arkitekter AB and Penoyre & Prasad
Bennetts Associates with Reiach & Hall, Buro Happold and Gustafson Porter & Bowman
Hopkins Architects with Arup and Todd Longstaffe-Gowan
Rogers Stirk Harbour & Partners with Stantec, Arup, Gillespies, Speirs & Major and T Projects
Ryder Architecture with Hawkins/Brown Architects, Spacehub Design, Hoare Lea, Rider Levett Bucknall UK and Ramboll UK