Architects list top priorities for government post-Brexit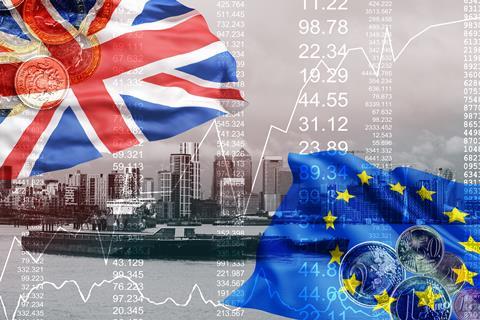 The RIBA has called on government to act swiftly to sign a trade deal that protects UK architecture in the face of Brexit.
The organisation said that, given that one in five Arb-registered architects is from Europe and that 60% of construction products are sourced from EU countries, the future trade agreement between the EU and UK will significantly impact the success of the UK's architecture sector.
The RIBA has asked government to reach a new agreement for the mutual recognition of professional qualifications, allowing EU architects to train and practice in the UK and vice versa.
It has also asked for a trade in services agreement to be signed that enables the UK and European market for architecture services to grow.
The organisation's third request was for government to ensure high standards for construction products continue, and that goods can be imported and exported without unnecessary administrative burdens.
Alan Vallance, RIBA chief executive, said: "Without mutual recognition of professional qualifications and frictionless movement of goods, architecture practices across the UK will struggle to recruit talent and source the products they need.
"The government must ensure architects' qualifications are recognised post-Brexit and negotiate an agreement that furthers the UK's reputation for quality, innovation and high standards. It's crunch time – we need a secure post-Brexit future for our profession."
Jo Bacon, from Allies & Morrison who is RIBA vice president for international, said that almost 40% of employees at her practice were from overseas and that around 20% of its projects were located worldwide.
She said: "Our work contributes to a vital UK income stream of almost £450m per annum secured by RIBA chartered practices across the world. It is therefore absolutely vital that we continue to have access to new work and the best talent globally after we exit the European Union."
Erect Architecture's Barbara Kaucky, who is the chair of the RIBA's small practice group, said she was concerned Brexit might bring about a drop in standards, raise construction costs and increase barriers to foreign talent staying in or moving to the UK.
She said: "Qualifying salary thresholds should be kept low and immigration procedures should be affordable and straightforward. We are currently employing an architectural assistant under a tier 2 visa and are finding the process admin-heavy and expensive."
Kaucky said it was also important that any trade agreement include an alignment of standards and allow for the smooth movement of goods.