Architects invited to submit visions of future views for competition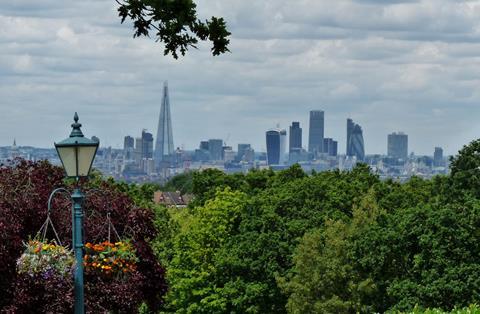 The National Trust is appealing for architects and the public to nominate their favourite London views in order to get them protected in the next London Plan.
The charity's Points of View campaign coincides with the 80th anniversary of the introduction of St Paul's Heights, the capital's first protected views.
Since then 27 views have been given some form of designation but only four of the nine fully protected vistas are from south of the river.
The trust is asking people to tweet their favourite currently unprotected views. It will submit the best to the mayor, Sadiq Khan, for consideration as the next London Plan goes out for consultation.
It has also teamed up with the Horniman Museum, which sits on the top of one of south London's tallest hills, to launch a competition for artists and architects to design their vision of what that view could look like over the next 80 years.
The winning designs will receive a £100 honorarium and be displayed as part of an installation by Bompas & Parr.
This installation, called The Imminent Diorama, will see the winning visions printed in acetate and slotted between a viewfinder and a framed distant view over central London.
Running from November 13 to 26, it aims to celebrate the delight and importance of vistas as well as highlighting the disparity between protected views in north and south London.
"This disparity is largely a result of historic power vested in wealthier parts of the city," said the National Trust's creative director Joe Watson. "Breath-taking views of our city are life affirming. While they may not cost anything, they are of value to everyone, so we're asking Londoners to tell us which views are most important to them for us to celebrate and, in the future, perhaps protect."
Sam Bompas of Bompas & Parr said: "The Imminent Diorama will bring together contrasting artistic points of view in one engaging, thought-provoking and interactive installation, allowing members of the public to 'leaf through' the final collection in front of the actual view from the Horniman Gardens. We're looking forward to receiving a wide range of entries that challenge the importance of protecting views."
St Paul's Heights, the eight original locally protected views of St Paul's Cathedral, were first proposed in 1937 by W Godfrey Allen, surveyor to the fabric of St Paul's, and adopted in 1938 as a gentleman's agreement by the City corporation. It was responding to growing public concern that important views of the cathedral might be obscured by tall buildings as new methods of construction allowed for buildings of greater height. These views, and others, were only given policy status in the 1980s.
Full information on how to enter is here.