Henley Halebrown remains outsider as bookies surprised by closeness of fight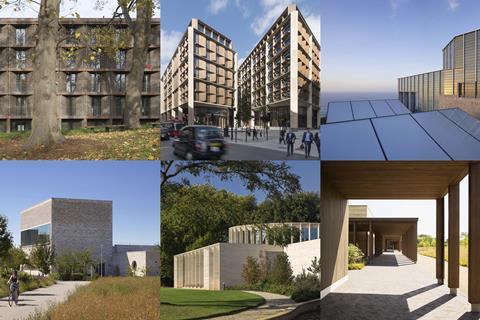 MUMA has strengthened its position as favourite to win the Stirling Prize as the week of the ceremony arrives.
With just days to go, the odds have shortened on the early favourite, a community centre in Cambridge.
But Foster & Partners' Bloomberg HQ is still snapping at its heels and bookies said the prize was "very, very close".
Waugh Thisleton's Bushey Cemetery has slipped slightly as Tate St Ives moved into third place.
Henley Halebrown's Chadwick Hall remains the outsider.
"For it to be so close is pretty rare," said Rupert Adams from William Hill.
"With only a few days to go we would normally have seen one shoot ahead of the others, which is normally just sentiment among the community for what they think the judges will go for.
"What this says to me is people think it's an open year and don't want to stick their neck out."
He added: "I'd put my money on Bloomberg. It ticks all the boxes – it's environmentally friendly, it's quite pretty and it's big business."
Final week odds
11:4 Storey's Field Community Centre and Nursery, Cambridge, by MUMA
3:1 Bloomberg, London, by Foster & Partners
4:1 New Tate St Ives, Cornwall, by Jamie Fobert Architects with Evans & Shalev
5:1 Bushey Cemetery, Hertfordshire, by Waugh Thistleton Architects
5:1 Sultan Nazrin Shah Centre, Worcester College, Oxford, by Niall McLaughlin Architects
6:1 Chadwick Hall, University of Roehampton, London, by Henley Halebrown