New president Ben Derbyshire says prime minister's funding boost cannot address decades of undersupply
Theresa May's pledge to deliver "a new generation of council houses" to "fix the broken housing market" is not backed by the financial commitment required, RIBA president Ben Derbyshire has warned.
The prime minister today announced the government was making an additional £2bn available to councils and housing associations with the aim of delivering more affordable and social rent homes.
But Derbyshire said the figure "won't meet the scale of investment needed to address decades of under-supply" in the housing market.
At the Conservative Party conference in Manchester, May promised to make it her personal mission to solve the nation's housing crisis, building on existing measures – such as Help to Buy and planning reforms, which she said the outcome of June's snap general election had shown to be "not nearly enough".
May said that the extra £2bn in funding would take the government's affordable housing budget to "nearly £9bn", which local authorities would be encouraged to bid for, and which would allow homes to be built for social rent "in those parts of the country where need is greatest".
Derbyshire said that while it was good news that the prime minister had made fixing the housing crisis a central priority for the government, the quantum of aid was out of proportion to the magnitude of the problem, and the potential benefits that could be realised.
"The government spends billions of pounds a year subsidising private landlords because of a shortage of social housing," he said
"They need to dial up the approach and investment, moving beyond describing the problems and big rhetoric to delivering solutions and the investment that will make the difference.
"Warm words won't put roofs over people's heads; we need a concerted programme of public investment in new social housing across the country and that means spending a lot more than was announced today."
Derbyshire, who took up his two-year term as RIBA president last month, said the social housing created by Neave Brown – who was last week awarded architecture's Royal Gold Medal for his work – ought to serve as a standard for the kind of communities that were created by high-quality architecture and proper investment.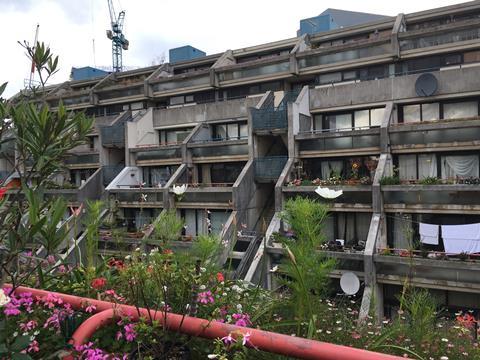 In an interview with BD, Brown himself called for a funding model to be developed that would finance housing projects throughout their lifespan, not just to pay for construction.
Elsewhere, other reaction to May's conference speech was more positive.
David Orr, president of housing association umbrella body the National Housing Federation, said the prime minister had been right to propose a "bold break with the past" and signal a return to creating genuinely affordable new housing.
"The additional £2bn will make a real difference to those let down by a broken housing market," he said.
"Building homes for social rent will make work pay and help bring down the housing benefit bill in the long run by moving people out of costly private lets."
Orr said improved access to finance and land would help housing associations "unleash their full potential" and improve on the 48,000 new homes they had started last year.
Chartered Institute of Housing chief executive Terrie Alafat said it had been "encouraging" to hear May say councils had a central role to play in building affordable homes.
"The details of exactly how these new homes will be funded and just how many will be for the lowest social rents will be crucial," she said.
"The number of homes for social rent funded by the government collapsed from 36,000 to just over 1,000 between 2010/11 and 2016/17. Reversing this trend will be a significant."
In her speech, the prime minister also issued a blunt call to housebuilders to up their game on new-home numbers.
"I want to send the clearest possible message to our housebuilders," she said.
"We the government will make sure the land is available; we'll make sure our young people have the skills you need. In return, you must do your duty to Britain and build the homes the country needs."
Earlier in the day, communities secretary Sajid Javid announced a £2.5m boost to increase the delivery of more than 155,000 new homes at nine garden town projects across England.
He said new funding would fast track the build-out of schemes at Bicester, Didcot, Basingstoke, Otterpool Park in Kent, Aylesbury, Taunton, Harlow-Gilston, North Northamptonshire and North Essex.