LDA Design masterplan contains buildings by Stanton Williams and Lifschutz Davidson Sandilands
LDA Design's £200m masterplan for UCL's Olympic Park campus expansion has been approved by the mayor of London,
The 180,000sq m project, which was granted outline consent this week, includes buildings by Stanton Williams and Lifschutz Davidson Sandilands.
It is the single biggest expansion since the university was founded in Bloomsbury 200 years ago. It will add a further 40% to UCL's space.
Construction of UCL East is now set to start next year and be built in phases, with the first occupiers moving in ahead of the autumn term in 2021.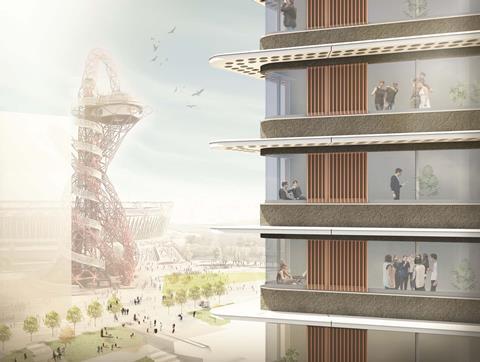 LDA Design said the proposals would provide a new model for campus design, with cross-disciplinary research and teaching, and would be embedded in the local community.
"Excellent connectivity is key and the masterplan provides for inviting ways and views through," said a spokeswoman.
"A transparent 'Fluid Zone' across the lower levels of the university will link external and internal spaces and ignite public curiosity through showcasing work."
LDA has been working on the masterplan since April 2015. It was submitted by the LLDC and UCL in May 2017. At the end of last year the LLDC – which also determines planning applications on the former Olympic Park – unanimously resolved to grant permission, subject to finalisation of planning conditions.
Bernie Foulkes, a director at LDA Design, said: "The masterplan for UCL East is intended to change the way we think about the relationship between city and university.
"Its ambition is to be inclusive and welcoming to everyone and to harness the power of the public realm to encourage collaboration and exchange.
"We think by creating this new kind of place, where buildings and spaces share the same sense of openness and accessibility and where people can mix, then great things can happen for the university and for the local community."
Sadiq Khan added: "As this new development takes shape it will cement London's reputation as the best place in the world to study, work and visit."
The project is close to but separate from Allies & Morrison's Stratford Waterfront project – formerly Olympicopolis – which will provide new homes for the V&A – designed by O'Donnell & Tuomey – Sadler's Wells and UAL London College of Fashion.
Together the two schemes have been dubbed the Cultural and Education District or CED.
UCL East: Phase 1
Construction of phase 1 will start next year and consist of more than 50,000sq m in two buildings housing 4,000 students and 260 academic staff.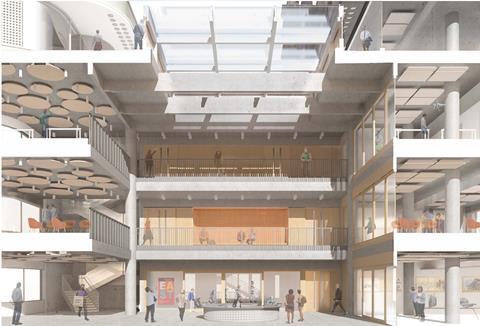 Building 1: Pool Street West, designed by Lifschutz Davidson Sandilands.
Occupier: Future Living Institute: a multi-disciplinary home for research, innovation, teaching, and engagement from at least five faculties. It will be home to new research labs and taught programmes.
Design: Two towers of student flats will rise 13 and 17 storeys above a three-storey academic podium. A landscaped terrace provides a social space for residents and academics to meet. The central atrium is designed to be open to members of the public.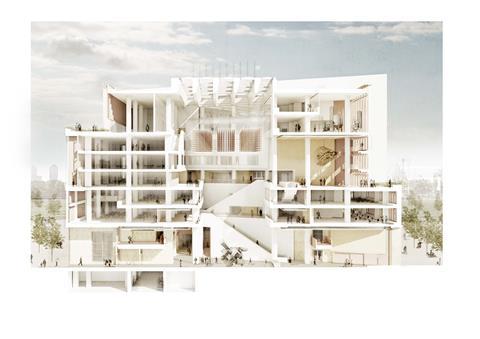 Building 2: Marshgate 1, designed by Stanton Williams
Occupier: Academic research, innovation and teaching
Design: The building will contain research laboratories, enterprise and translational research spaces, group-working spaces, design studios, making spaces, student-led and high-precision fabrication workshops and exhibition spaces. The design aims to foster collaborative working and socialising. The lower levels include a network of public spaces and activities intended to draw the public into the building.