State-of-the art Macmillan unit combines cancer treatment with pastoral care
Architecture and interiors firm the Manser Practice has completed a £10m facility at Chesterfield Royal Hospital that is designed to bring together "fragmented" cancer services at a unique unit that also provides non-medical support for patients.
The two-level NGS Macmillan Unit at the Derbyshire hospital gathers all core and support services in one accessible area and features a first-floor treatment room that offers patients extended views of the Derbyshire landscape.
On the ground floor, a Macmillan Information and Support Centre greets visitors as they arrive and leave. Manser said it was one of the first hospitals in the UK to provide truly holistic cancer care in one unit.
Practice joint managing director Guy Barlow said the centre had been designed around the needs of users from its conception to its construction.
"We wanted to create a building that is uplifting and meets the complex care-needs of cancer patients in the wider Chesterfield area," he said.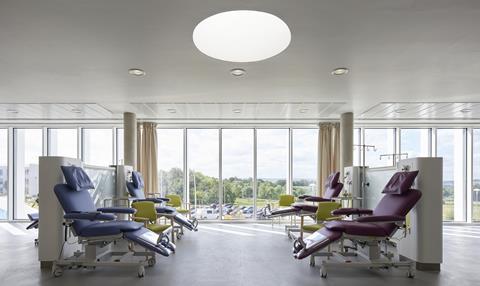 "We consulted with staff and patients right from the very inception of the project to gain an understanding of what they wanted and needed from the space.
"We then worked intensively with all the departments to define the care pathways, producing a combined timetable to identify the optimum number of key clinical rooms, combining this with the site constraints and an ongoing dialogue to develop the building."
Manser said the building was one of the first in the UK to be clad in Corian, which it said could be thermoformed, jointed and laser cut – factors which enabled the use of fins across the building's curved façade, and also the artwork and detailing worked into the vent panels and louvres.
The "NGS" in the unit's name stands for National Garden Scheme, the annual open-garden event which raises funds for Macmillan and donated £1.5m to the Chesterfield project.