Day-care centre will be latest addition to grade I-listed south-east London institution
Planners have approved a Mæ-designed day-care centre for construction at south-east London's Morden College.
The facility – modelled on the Maggie's Centre concept – will bring together services currently spread across the residential care charity's grade I-listed base in Blackheath.
It will boast health consultation rooms, care facilities, a café, craft workshops and art spaces, all designed to provide a positive and attractive hub for residents and older people within the community.
Mæ principal Alex Ely said the John Morden Centre would be a vital resource for the organisation, which was founded more than 300 years ago.
"We worked closely with the trustees, senior management team and residents of Morden College to develop a design that helps to tackle social isolation and loneliness among older people by providing welcoming spaces to meet and interact," he said.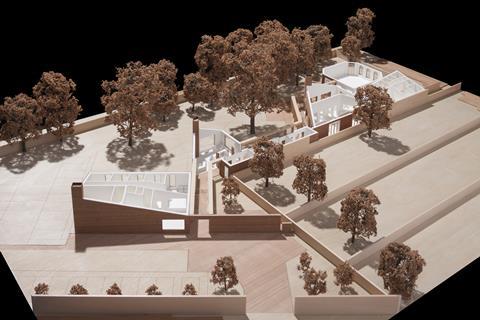 "The design proposes a series of high-quality spaces that are domestic and homely in feel and are connected to the surrounding gardens and landscape, allowing the residents to feel relaxed and engaged with the unique character of Morden College and its context."
The original Morden College was designed by Christopher Wren's master builder and successor, Edward Strong.
Ely said the building was "honoured in the breach in the new building" with inspiration drawn from the colonnaded structure, the arrangement of built form and its expression.