Spheron director Tszwai So picked for monument to victims of totalitarianism
London-based architect Tszwai So has won an international design competition for a new memorial to victims of totalitarianism earmarked for construction in Brussels.
So, who is one of the founding directors of Spheron Architects, saw his proposal selected from a field of 39 entries for the monument, to be built on Place Jean Rey in commemoration of all victims of authoritarian regimes across Europe in the 20th century.
A panel including Norman Foster and EU Commissioner Tibor Navracsics judged entries on an anonymous basis, picking So's design – titled Echoes of the Past – as the best. It features large-scale letters from victims and their relatives arranged around a central installation naming places of punishment, such as gulags.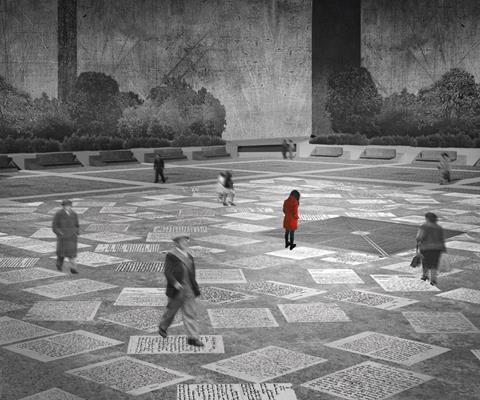 Runners up in the competition, organised by the Platform of European Memory and Conscience, were proposals by Sabina Tanovic & Dario Kristic of the Netherlands, and Lithuania-based Mantas Maziliauskas, Povilas Šorys, and Gitana Stankiene, Klaipeda, Lithuania.
The three top designs are due to be displayed in an exhibition at the European Parliament from April 24.
Tszwai So initially studied architecture at the University of Hong Kong, but later studied for a masters degree at the University of Cambridge on a building history bursary. He founded Spheron with Samuel Bentil-Mensah in 2011.