City council approves plans for new Royal College of Physicians base
AHR has won planning permission for a £35m building it has designed for the Royal College of Physicians in Liverpool. It will serve as the organisation's northern base.
Dubbed "the spine" in recognition of a staircase on its northern elevation that resembles human vertebrae, the 15-storey building will occupy a plot in the city's Paddington Village development, which is part of Liverpool's wider Knowledge Quarter.
The Royal College of Physicians is due to occupy the bottom three storeys and top four storeys of the building. The remaining floors are envisaged as offering flexible workspace for the health, science and education sectors.
A report to members of Liverpool's planning committee said the massing of the building's top section featured a defined crown in the form of a louvre rooftop plant screen that would be lit at night to "reflect a crown on the building and draw attention to the visually interesting element".
Government heritage adviser Historic England expressed concerns that the building's height and location would "weaken views" of the city's Roman Catholic Metropolitan Cathedral in views of the city's skyline.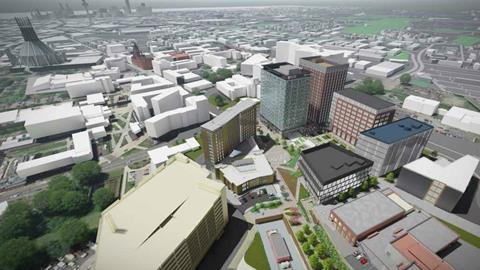 Officers accepted that the proposal would "cause harm to the significance of the cathedral through its setting" but argued that Liverpool's Unesco World Heritage Site buildings would be "unaffected".
Recommending the scheme for approval, officers said the city's head of planning considered the proposals to be a high-quality contemporary design that would "function appropriately and respect the context of the surrounding built form".
"The proposal will result in the creation of a high-quality building of contemporary design which will provide key facilities for Paddington Village, in accordance with the aspirations of the Paddington Village spatial regeneration framework," they said.
"The head of planning considers that the wider economic, social and environmental public benefits that the scheme would deliver and the achievement of sustainable development in accordance with paragraph 11 of the NPPF, outweigh the harm caused to the setting of the Metropolitan Cathedral."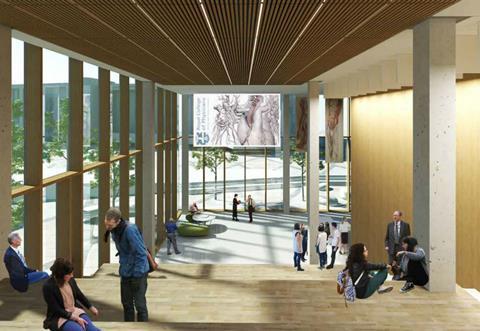 The Royal College of Surgeons expects the project to be complete in 2020.
Liverpool's Knowledge Quarter is a collaboration between the University of Liverpool, Liverpool John Moores University, Liverpool School of Tropical Medicine, Royal Liverpool and Broadgreen University Hospital Trust and Liverpool City Council. It the city's largest mayoral development zone and covers nearly half of the city centre.