Taunton atrium roof cast off-site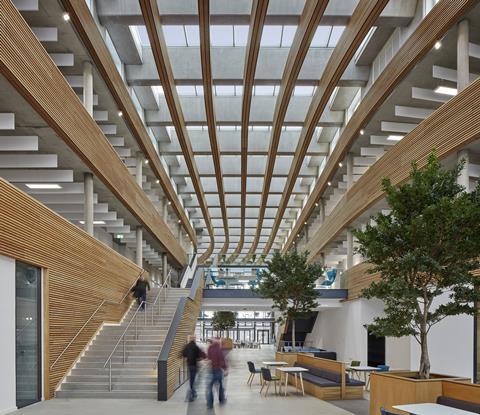 AHR's headquarters building for the UK Hydrographic Office in Taunton has completed three years after the initial design work began.
The 11,000sq m office block will house the marine geospatial information agency.
Featuring an 800sq m atrium – with a roof cast off-site by the contractor – 3.5m floor-to-ceiling windows and open balconies, the project is on course to achieve Breeam Excellent.
Adam Spall, regional director at AHR, said: "The UKHO's aspiration was for a 'one team' culture. Our design for the new headquarters has accomplished this through the use of generous staircases, open balconies and wide bridges which create physical and visual connection between all parts of the building."
Spall said the design concept took inspiration from the hydrographic office's work, following the theme of 'Seabed to Surface' with images of strata, contours and water currents influencing the aesthetic design throughout the building.
The building, which was modelled to BIM level 2, uses natural ventilation wherever possible, while sinuous timber baffles hang from the ceiling, "reinforcing the visual concept while providing perfect acoustic control, diffusing daylight and eliminating glare", said AHR.