Practice creates moulded concrete picture house in Galway
Irish practice dePaor has created a distinctly brutalilst "concrete castle" dedicated to film in the City of Galway that mixes plush traditional interiors with an angular modern exterior.
Pálás incorporates a Georgian merchant house in the west Ireland cultural capital's Latin Quarter, and was 14 years in the making: the shell and core were completed in 2014, but the venue only opened this year.
Inside, the three-screen venue features state-of-the-art equipment, elaborate red velvet curtains, theatrical lighting and plush seating from 70-year-old French manufacturer Quinette Gallay.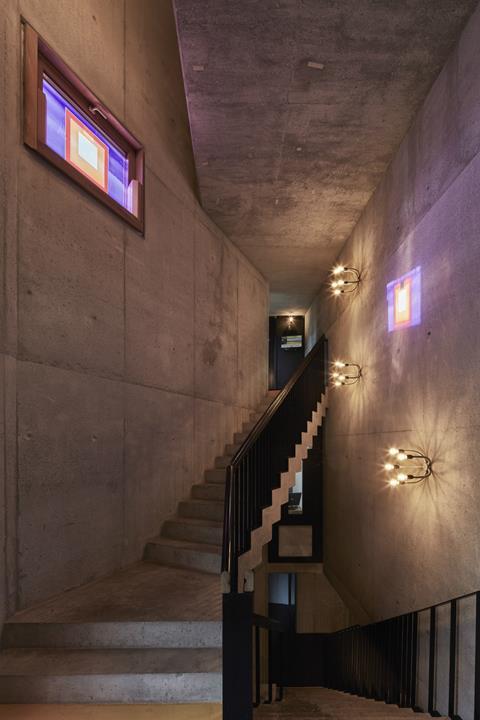 Structrually, angle-poured concrete staircases criss-cross through the building's seven storeys, leaving stepped silhouettes in the space underneath.
Architect Tom dePaor, whose practice is based in Wicklow, said he designed the building as a "monument to a gregarious town that thrives on festivals" – such as last month's Galway Fim Fleadh.
"I wanted to make the sort of plain, powerful building well known to this side of Ireland, and then to sweeten the pill with beautiful, decorative elements," he said.
Among those decorative elements are 24 resin-coated glass windows donated by the local artist Patrick Scott, inspired by filters used for stage lighting.
"They're like little projectors that play off the concrete and colour the rooms red, amber and purple," dePaor said. "At night they project outwards on to the city."
The venue is being operated by film producers Ed Guiney and Andrew Lowe.