Planners back vision for six of the bridges required for 'world's longest artwork'
Lifschutz Davidson Sandilands has won planning permission for a tranche of structures included in its Illuminated River project to light up 15 Thames bridges in different ways, making up what it has called the "world's longest public artwork".
This week the City of London's planning and highways committee approved its proposals for London Bridge, Southwark Bridge, Cannon Street Railway Bridge, the Millennium Bridge, and both bridges at Blackfriars – the first four of which make up the scheme's first phase.
LDS, in collaboration with US artist and architect Leo Villareal, beat competition from 105 design teams in 20 countries to the project, which is supported by the Illuminated River Foundation. Finalists included David Adjaye, Amanda Levete, Sam Jacob and Diller Scofidio & Renfro.
According to the foundation, the project will see each bridge lit differently but in a way that is inspired by Impressionist painters and English Romantics.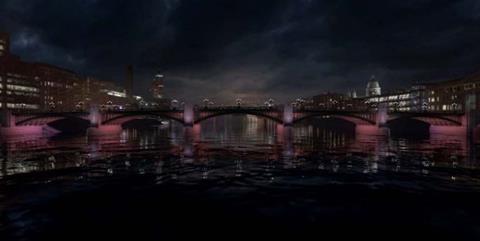 The run from London Bridge to the Millennium Bridge is set to be illuminated from spring next year, with the whole project due for completion in 2022.
A report to Tuesday's meeting of the City's planning committee said the designs were predominantly restricted to the sides and undersides of the bridges and sought to "enhance an appreciation of the character and significance of each bridge" and minimise visual clutter.
It also noted that with the exception of Blackfriars Bridge, and its rail counterpart, its bridge consents would also need the ratification of Southwark council.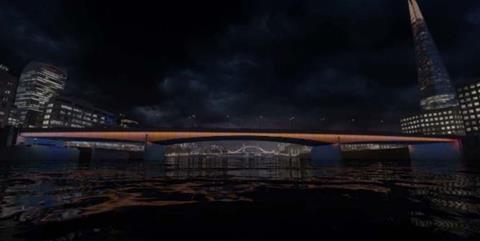 Planning and transportation committee chair Chris Hayward said the City was delighted to be progressing the project, which it is part-funding.
"Unprecedented in its scale and hugely exciting, Illuminated River will celebrate the aesthetic of London's built environment and enhance the experience for the Square Mile's growing night-time and cultural economy," he said.
"It is essential that the City Corporation continues to support innovative ways to experience the City's infrastructure and maintain its position as a global financial and business centre, as well as a world-leading cultural and creative destination."
The approved applications were among 30 permissions that the Illuminated River Foundation lodged with London boroughs earlier this year.
The entire project will stretch from Tower Bridge to Albert Bridge in Chelsea.